Here we go again with our AFCW approved regular feature TRASH TALK, they like it so much we got nearly 1,000 hits in the morning before our match on Saturday.
This week we play our local rivals the Cobblers and we welcome Gavin Foster and his 2-year-old son Freddie for a second round of questions this week.Many thanks to you both, stay safe and have a good season.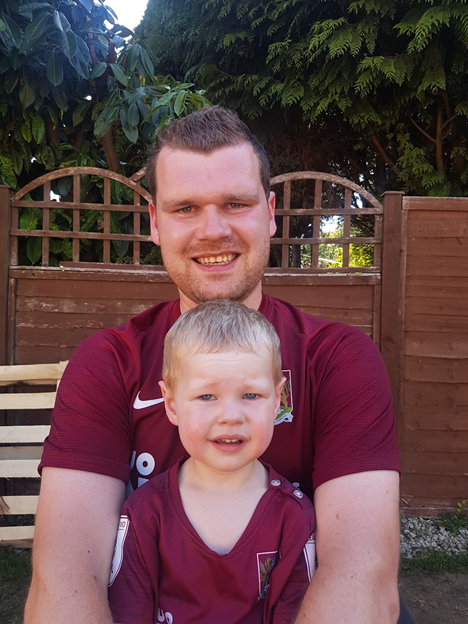 Tell us a little-known fact about your club?
Ex NBA star Shaquille O'Neal is a famous fan of the club! He part owns a radio station with our chairman in Florida.
What impact has Covid 19 had on your club, do you worry for its future if this continues?
All of the signs coming out of our club are positive, obviously the situation isn't great for any club, but Covid hasn't affected the transfer or wages budgets as far as we know. However, this maybe down to the sale of former captain Charlie Goode who we sold to Brentford for a club record £1.2m in the summer.
What has your club done to compensate fans on season ticket sales?
Nothing as of yet! We all get IFollow codes for the home games as does every football league season ticket holder, but I believe the club has plans to compensate us in place, just not announced yet!
What were your expectations for your club pre-season, and have you changed your mind on what you have seen so far?
Survival! Although we deserved to win the play offs, we were fortunate to get there (qualifying on estimated PPG) after a bad run of form and have practically had to build a new squad due to various reasons. Keeping the manager was key though and something we haven't been able to do after promotions in previous years.
Who has been your breakout player this season?
Ricky Korboa. We signed him in the summer from Carshalton after a trial period and considering the 4-division jump to full time football he hasn't looked out of place at all!
Who should Dons fans watch out for as a game changer?
Korboa if given space and time can be dangerous as can winger Mark Marshall. Nicky Adams is also a player who can create a lot of chances and is always up there in the assist table!
What's your opinion on IFollow?
My personal experience with it has been ok, although have heard many people struggle with it, mainly the older generation!
Match prediction?
2-1 Cobblers
Who is a good tip for promotion and relegation?
Peterborough (begrudgingly!) for promotion and Rochdale for the drop!
Where do you think the MK Dons will finish up this season? 
12th, a season of consolidation with a manager learning his trade!