THE MKDSA PROGRAMME SHOP
Programmes!!! Get your Programmes here!!!
"Programmes bring back memories of going to a specific game. A programme is a very powerful thing, as once you look at it you can start reeling off names of players from that era."
You may have noticed the MKDSA Programme stall that's popped up this season in Lewington's Bar.
We have the largest range of MK Dons programmes readily available anywhere in the world and very reasonably priced at 50p each or 3 for £1. We beat eBay and dealer prices, and If you want it, we most likely have it.
On top of that we have individually priced programmes which are rarer and more wanted by fans. A price is set but make us an offer…… We certainly can't let Manchester United at home go for 50p.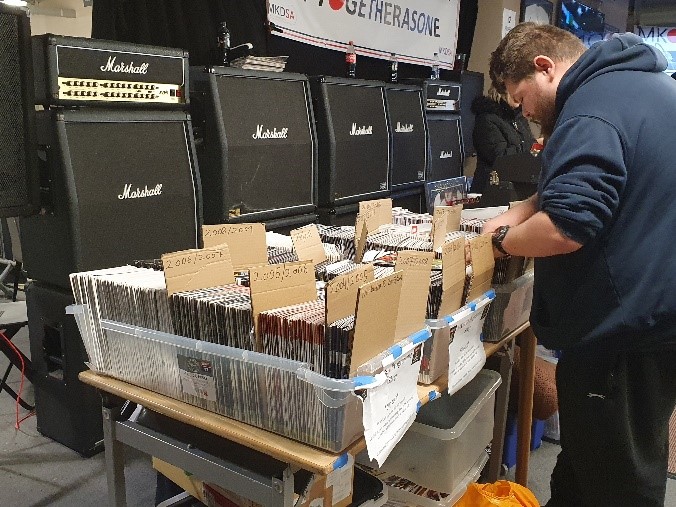 Open at Lewington's Bar every home game there's hundreds of programmes for you to browse through going all the way back to Wimbledon FC in 2003/2004.
Did you attend a game but not manage to grab a programme? Have you got some children who would like some half time and pre match reading? If you are after a certain programme speak to our programme man James. There is a high chance he can source the programme for you.
Don't forget all the money raised goes back to the fans via the MKDSA for future projects in Lewington's Bar!
Please Note – The Programme Shop runs on a cash only basis.
If you have any programmes that you wish to donate, please contact archivemkdsa@yahoo.com and we can sort out collection.
MEET THE BOSS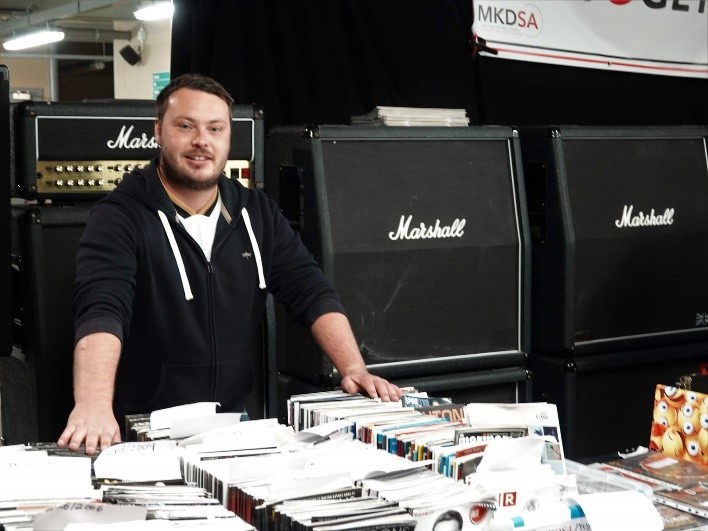 James started collecting programmes from a young age, buying one at every game he went to. This has led him to owning every home MK Dons programme and around 95% of the away games from September 2003 to present day and 9 boxes of MK Dons programmes sit in his shed.
Being known on the selling market with other dealers of football programmes, James has got a vast experience in selling programmes from all English clubs.
However, his main knowledge is in MK Dons programmes and is listed as the MK Dons programme contact on footballprogrammecentre.co.uk.
Whilst his collection is 98% MK Dons, he has got a soft spot for others. Mainly non-league teams in Cup fixtures. Woking verses Kempston Rovers in the FA Trophy. Coventry City verses Arlesey Town in the 12/13 FA Cup. Bedford Town verses Aldershot, and Chesterfield from Cup games in recent years to name a few.
Having been contacted to join the MKDSA committee, he swiftly put together the idea for the programme stall in the fans bar. Covid put a halt to the plans, but the stall finally made its debut against Charlton Athletic in August 2021 and has gone from strength to strength since.
Wanting to know a little bit more about James and his collection, we asked him a few questions.
When did you start collecting?
Properly collecting was around 2009/2010 but the odd programme was bought before that time. The club once let me help myself to what I wanted.
Most prized programme owned
1999 Champions League Final or England V Denmark Euro 2020 Semi Final. That's worth more than the final programme!
Most prized MK Dons Programme owned
First meeting with AFC Wimbledon at Kingsmeadow in 2016. Paid ridiculous money for it. That, or MK Dons V Burnley (first home game in 2004). That's a piece of history.
Rarest MK Dons programme
I've seen 2 copies of the 2012/2013 postponed Carlisle United game. One of which is in my collection. Make of that what you will. The first away game at AFC Wimbledon in 2016. No dealer has a copy. It's not on eBay…… Gold. Dust.
Printed or digital?
Flicking through a programme can't be beaten. It's a part of football culture. When we changed to an awful video programme last season, I was disappointed at the very least. Printed all the way for me.
Biggest pet peeve
Seeing programmes for sale for well over their value, and just because you have programmes from the 70s, 80s, and 90s doesn't mean they are worth a lot of money because they are old. Unfortunately, they are worth 10-50p each in most cases, unless it's a cup final or the game has some meaning. Take the 1989 FA Cup Semi Final for example. Any programmes pre 1960s are valuable based on condition and can fetch serious money. Stop trying to sell me Arsenal v Coventry from 1976 for £3 because 'it's old.'
Best advice on programmes.
Please don't fold or crease them. Or write the score on them. Store them properly too and don't let them get wet. And don't just put them in the skip if you don't want them. At the very least charity shop them.