Just to let you know there is no It's a Rollover next week for our FA Cup away tie with Eastleigh, simply because we have never played them before, hence no programme to look back at. But James Rees will be back the following weekend with a look at a past meeting with Sunderland.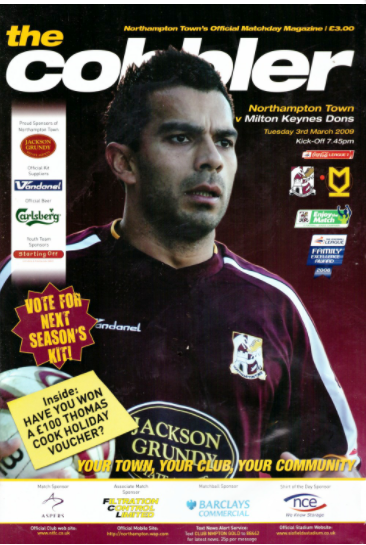 Wilbraham 34'
Coca Cola League One
Sixfields
MK Don's first visit to Sixfields resulted in a victory and 3 points after Aaron Wilbraham's 34th Minute goal. In the rearranged game, the first was abandoned, MK Dons stole the show and moved up to third in the League. Northampton had to secure a point against Leeds in their next game to avoid relegation.
MK Dons Team: Willy Gueret, Carl Regan, Dean Lewington, Miguel Llera, Jude Stirling, Peter Leven, Alan Navarro, Jason Puncheon, Mark Wright, Sam Baldock, Aaron Wilbraham.
Subs: Nathan Abbey, Shaun Cummings, Luke Howell, Luke Chadwick, Tore Andre Flo.
Quiz Question
By how many points did MK Dons miss out on automatic promotion that year?
1
2
6
Answer from last week: B