Our second helping of Trash Talk and many thanks to the lads for tracking down another Stevenage Borough fan to share their thoughts with us ahead of the FA Cup clash on Saturday. This time we thank 27 year old Matt Farley (below) for agreeing to answer our FA Cup themed questions, good luck to you and the Boro for the rest of the season.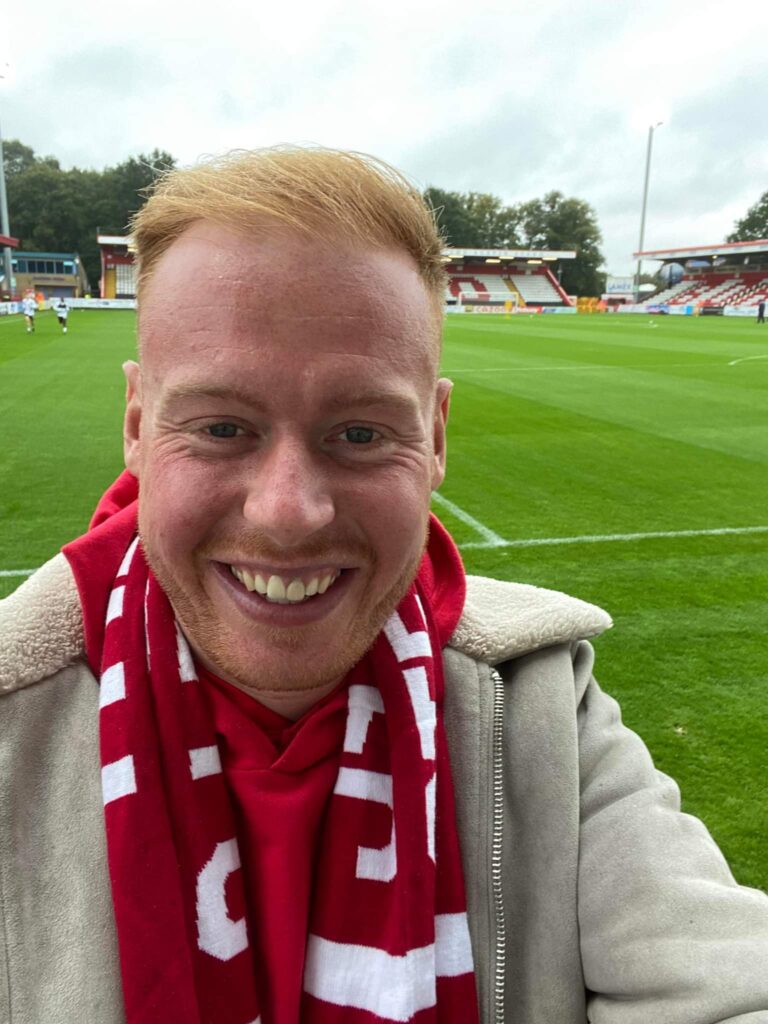 1 – How long have you supported your club?
I've been a Boro fan for just shy of 20 years. My Dad started to take me when I was a kid to watch a better standard of football. I fell in love with club and as I got older, I started to watch Boro home and away every single game and still do now!
2 – What was your reaction when you heard the draw for the FA Cup?
I was actually really excited! I know a lot of Boro fans weren't particularly happy because it's a tough tie, but only a 40-minute drive, along with playing in a big stadium, I was really happy with it.
3 – Do you have any good memories from the FA Cup involving your club you can share with us? We have a feeling you might mention the FA Cup penalty shootout in 2010.
I have LOADS of amazing FA Cup memories supporting Boro. The most obvious ones which come to mind are beating Newcastle at home 3-1, along with playing Spurs in a replay at White Hart Lane and going 1-0 up in the tie!
I also remember some of the amazing ties back in the non-league days, watching Boro win at Kettering and seeing us lose away at Leicester AND of course watching Boro win at MK Dons on penalties (WHAT A NIGHT!) The competition is so important for us as a club.
4 – We notice you have had an uncertain start to the season in League 2. Do you consider the FA Cup to be a welcome distraction where you can try and get your season back on track?
Great question and YES, it's huge for us this season. We've really struggled of late and after a very positive start in League Two, the past 2 months have been poor. We've lost 6 away games in a row and only have 1 league win in 13 games. So not only is the FA Cup huge for us financially, but it's also huge to help our league form.
5 – Still early days, but what do you feel the 2021/22 season holds in store for Stevenage?
I'm still positive this group that we have can turn it around. It seems the management team are under huge pressure to deliver results ASAP. But on paper I do believe we have one of the best Boro sides I've seen in a good few years, and I believe that we can turn it around and eventually climb the table. But November and December will play a big part in that.
5 – We have fond memories of your gaffer Alex Revell when he saved a penalty against Preston North End. How has he taken to the job of team manager?
Revs is a top man! I'm lucky enough to have spoken to Revs on quite a few occasions. For a first job I think he has done very well. Last season he was able to turn the ship along with Dean Wilkins and nearly got us into the Play Offs. This season isn't going that great for him, it's been tough lately and he is under pressure to deliver results. But as a new manager he has learnt so much in just 2-3 years that some managers haven't experienced with 10 years of experience.
6 – What sort of style and formation can we expect to see from Stevenage in our FA Cup clash?
It's been very clear that from the get-go this season we want to play 4-2-2-2 and be exciting with our play. That formation has changed recently due to some really poor away results, but the way the team play hasn't changed, we look to get the 10's on the ball and create in the final third.
7 – Can you identify any players in your ranks that could be a game changer or someone we should look out for?
Elliot List 100%!! Been our player of the season so far and I'm certain he is the fastest play in League Two. He can get clean through at any moment in the game and is very talented. There's been times where we aren't playing well and within a space of 2 minutes, we find ourselves 1 up or level in a game because Listy has got through with his pace.
8 – Have you ever visited Stadium MK before, if so, what's your opinion of it?
I've visited LOADS of times watching Boro play. I think it's an amazing arena. I actually think it's a shame that there are so many empty seats for home games whenever you're at home. Just to even get 10,000 would make so much of a difference. But lovely pitch, love acoustics.
9 – Are there any MK Dons players you are aware of and could potentially spoil your day out?
Mo Eisa has always been a threat whenever we've played against him. I even think we even tried to sign him at one point over the past few years. But he poses a threat, and we need to be switched on.
10 – That's it then, all we need now is your prediction for the game?
Tough one Ha-Ha!! Our away form is dreadful at the minute. But the FA Cup is a special competition, I even played in it as an 18-year-old many years ago and even when you play in it, anything can happen. I'll go 1-0 Boro, last minute winner to put us through and change our season!
EDITOR – Many thanks and good luck for the season.