Many thanks to Pompey fan 23-year-old Jake Smith, who not only supports the club but also occasionally is sitting in the press box. One thing noting from Jake's excellent answers is his reference to the ticketing at Fratton Park, ring any bells?
Once again thanks Jake and good luck for the rest of the season.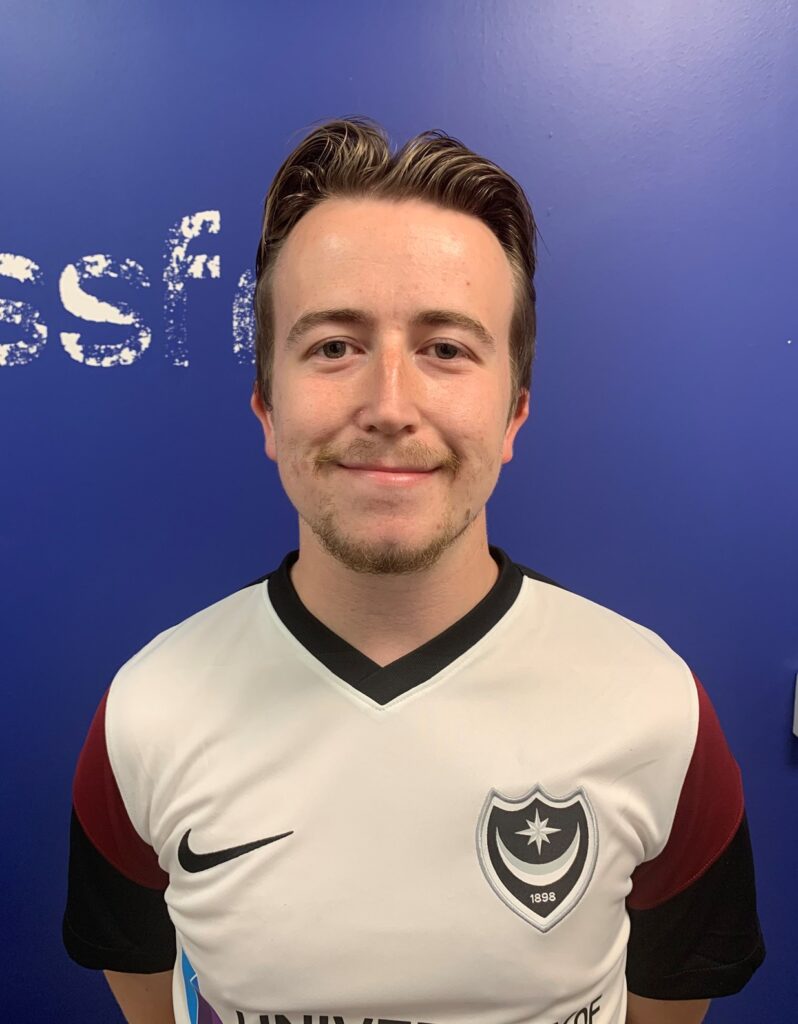 Looking back to last season after a summer of reflection, what is your assessment of how you got on last season?
Last season will be looked back on as a failure by most Blues supporters. 2020/21 was our 4th season in League One, having previously finished 8th, 4th and 5th since the promotion from League Two in 2017. We were flying at Christmas and had started almost every season under Kenny Jackett very well, but each campaign told the same, sad story toward the end, bottling promotion and whimpering out of contention. Jackett delivered two great seasons, in my opinion. To finish just outside of the Play-Offs in our first year back in the third tier, followed by a haul of 88 points and an EFL Trophy success in 2019, was rightfully regarded as progression under Kenny, despite the unattractive and mostly boring. That style of play brought along results, fair enough, but as soon as points started to appear more and more difficult to get, with the playing style not improving, it ultimately called an end to Jackett's tenure at the club in March 2021, following our defeat to Salford in the 2020 EFL Trophy Final.
Danny and Nicky Cowley were appointed on a short-term deal with just 12 games of the season remaining; essentially a prolonged audition to the board to prove that they were the right people to take the team forward and, despite failure to finish inside the top 6, their efforts were rewarded, and they remain in permanent charge. The future looks bright at Fratton Park under the Cowley Bros.
Looking forward to this season, what are your expectations and hopes for this season?
My heart says that Pompey are good enough this season to secure a top 6 finish with ease and possibly challenge for the automatic places too, a hope largely based upon what I have so far seen brought to the table by Danny Cowley. However, my head (usually the sensible thing to listen to) is remaining grounded. Our squad, on paper at least, is nowhere near as strong as some of our promotion rivals, mirrored too by the smaller budget at Fratton Park compared to Ipswich for example. As well as the fact that this is Cowley's first full season in charge, I would expect nothing less than a strong season with the Play-Offs a minimum. It's all about starting again and allowing the new gaffer some time to build his perfect squad, which does not always happen after just one transfer window.
Can you tell us a little unknown fact or Historical event people may not have heard of?
Fratton Park hosted the first floodlit Football League fixture (February 22nd, 1956 – in a 2-0 defeat to Newcastle United). Portsmouth is also the only club in the 92, and (to my understanding) the only club to have played in the Football League/Premier League to NOT be based on mainland England. Portsmouth is an island city and Fratton Park is housed on the island, only connected to the mainland by a giant man-made roundabout, which gives the illusion of a natural connection.
Are they any players "breaking through" from your system who could be the next big players for your club?
A huge squad overhaul in the summer saw the likes of Jack Whatmough (25) and Ben Close (25) depart, so the only members of the first-team squad we can claim from our academy are goalkeeper Alex Bass (23) and Haji Mnoga (19), who recently joined Bromley on a season-long loan deal. Other than that, Reeco Hackett-Fairchild (23) has had a commendable start to the season, and we have recently signed Arsenal youngster Miguel Azeez (18) on loan until the end of the season. These are two young players I would advise you keep a close eye on, if of course they feature.
How has your season ticket sales gone with potential issues with restrictions?
Season ticket sales have followed a similar pattern to previous unrestricted campaigns (12-14k). However, the first two league matches of the season at Fratton Park saw attendances of just 11,470 and 14,471. This is unfortunately down too online E-Ticketing issues and a shortage of staff on hand at the ticket office to see to fans in person and answer calls over the phone. These frustrating problems, which we are assured have now been fixed, has put many off bothering to go through the hassle of purchasing tickets for the opening few matches, which were also NOT included in this year's season ticket due to the uncertainty of whether Boris was going to allow fans back en masse. Fingers crossed, by the time our next fixture at Fratton arrives on September 18th, we will have a higher figure of 16k+ inside PO4.
We have capped all our season tickets at £230 in all areas in case of local lockdowns to cover the £10 a game on iFollow. Has your club come up with any initiatives?
Not as far as I am aware of, no. We have just reverted to a normal priced season ticket scheme, reduced this time around because it only covers the final 20 home matches of the season (as alluded to in the previous question).
Which MK Dons player stands out to you and why?
A few do, for example Scott Twine, Mo Eisa and Troy Parrott. Twine was a hidden gem in a poor Swindon team last season which did not deserve his quality and we were also rumoured to be chasing his signature this summer. Mo Eisa, despite finding game time at Peterborough limited toward the latter stages of his time there, has always been a big threat to League One defences and has had a decent start at MK this season. Troy Parrott, highly rated at Tottenham Hotspur, showed his potential at Ipswich last term, and now has the League One experience under his belt to continue to grow as into a free-scoring striker.
What style of play can we expect to see from your team?
With the team rested from the international break and looking to return to winning ways following defeat to Wigan in the previous league match, expect to see a high-pressing Pompey team come to Stadium MK with a much-improved attitude and much higher fitness levels compared to previous visits. This new team will work hard from minute 1 to 90 and chase every single ball when out of possession. One thing we do lack, however, is goals. We have not scored in over 250 minutes of league football and have only netted 4 from 5 games this term. We create plenty of chances in front of goal, but if your defence is switched on enough and your keeper is fully focused, I expect us to score no more than one goal.
Have you ever been to Stadium MK, if so, what's your opinion on it?
I have, three times – once in the away end when Pompey dramatically came back from a goal down to win 2-1 in 2018 and twice reporting from the press-box. The stadium is incredible, though aesthetically probably a bit boring on the eye (that's the football fan in me being a bit picky). There's no denying that the facilities are up there with the best in the division and it's great to see such a big, modern ground as opposed to most which are derelict and look like they are falling. Though, character is something I believe Stadium MK lacks a little. It's too big for the club unfortunately and I would much prefer to see teams homed in grounds they can fill or nearly fill, even if it can only accommodate a few thousand. I respect the facilities but feel the stadium is wasted on MK… (Sorry!)
Who are your tips for the league title, promotion, and relegation?
Pre-season, I picked out Ipswich Town and Charlton to finish in the top-two and, despite both sides having morbid starts to the season, I hold the opinion that both will at least finish in the top six this season. I would probably change my title-winners prediction from Ipswich to Sunderland now but if we are being honest, the league is so strong this season that I do not think anyone is going to run away with it. There are 4 or 5 teams in contention to finish top and I believe it will come down to whoever finishes the strongest in the final 3 or 4 games of the season. I think that the bottom 4 is likely to consist of Fleetwood, Wimbledon, Cambridge, and Morecambe.
Can you give us your match prediction?
I think the game will finish 2-1 in our favour. The squad is hungry to return to winning ways having picked up just 1 point out of a possible 4 from Doncaster and Wigan, not scoring in either game. This one will be tough and, now that we have finally conceded in the league, keeping clean sheets will not be as mentally easy as it perhaps was in August, and with MK's quality in midfield and up top, our defence will likely be breached. A close game it will be, but one I expect us to edge.
MK 1-2 Pompey.