Few people can say they got married at a football stadium, fewer still can say they had their wedding photo's taken on the pitch. Its not for everyone, but for Jane and Paul Franklin it was the only place to get married, seems to us like the perfect harmony. Many thanks to Jane Franklin for doing this, we know she has had a real difficult time lately, so we just want to send our love out to her and husband Paul…..stay safe and we look forward to seeing you next season.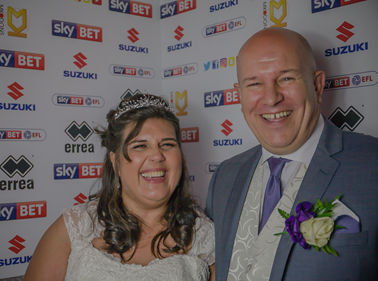 We understand you once worked at Stadium MK, were you a Dons fan before that, or did you develop that love whilst in the job?
Definitely a Dons fan before I started to work there – that's why I wanted to work there – it's wonderful to have a job that is also your passion.  My first connection with the Club began when an email went out asking for volunteers to attend the Matchday Supporters Workgroup and I got selected.  My interest in the club just grew and grew as I began to understand how much the club valued their supporters. As soon as the Box Office vacancy came up I applied and enjoyed 18 months working there before fibromyalgia got in the way. During my time there I volunteered Paul to be Mascot Co-ordinator as I organised the mascots and when I finished at the Box Office I asked Andy Cullen if I could assist Paul as it is a two person function and he said yes!  Best job ever!  Once you work for the Dons you never really leave – anyone that has either changed jobs or been made redundant will always come back to help out in some capacity – that's how working for the Dons makes you feel – that you're part of the magic that surrounds the club.
Can you tell us when you realised that were hooked by the MK Dons bug, and can you recall your first ever game?
My first ever Dons game was against Northampton in 2008 – we won 1 – 0, Aaron Wilbraham scored the goal and Roberto De Matteo was our manager.  Being in such an amazing stadium and watching professional football took my breath away.  My very first experience of watching a football match happened at the tender age of 7.  My Dad and my Uncle took my brother and I to see Luton v Carlisle.  I had to stand in the freezing cold, I couldn't see much of the game – mostly the backs of heads that were producing a thick fog of cigarette smoke.  I pretty much whinged for the duration of the game and needless to say, they didn't take me again!  So you can imagine my reaction as I walked through the doors of Gate 5 – even now the stadium still has the wow factor for me – it was love at first sight!
What were your expectations for us pre-season, and have you changed your mind on what you have seen so far?
My expectations at pre-season were a bit vague as I hadn't been able to see Russ's new team in action but having said that I have such faith in Russ as a manager I didn't see any major problems and would expect to see us in the upper end of league one at the end of the season.  It takes much time and patience to get a team to perform to expectations and I think Russ is definitely taking us in the right direction.  He believes in his players and his process and his aim is to bring out the best in them so that they will become unstoppable  and very difficult to beat.  I believe that Russ's management style is definitely the way forward for us.  Russ has also had the additional challenge of key players leaving and having to replace them without losing the level of performance.
Which Dons player have you been impressed with this season?
I think for me it has to be Ethan Laird – big talent with an amazing future. Good to see Will Grigg back in a Dons shirt as well.
What is your favourite Dons moment?
My favourite moment has to be when we were promoted to League One with Paul Tisdale.  Myself and Paul were on the pitch congratulating the players and I shared a very special hug with Conor McGrandles – it was a moment of pure joy at what they had achieved – a very special moment.  I feel as though I must mention our 4-0 victory over Man Utd – what a blast that was – an incredible day, and of course the first time we came face to face with AFC and won with the "Heel of God" goal – there was a huge amount of pride at stake that day and we came out of it intact – happy days.
Who is your all-time favourite player and why?
It has to be Kieran Agard.  He's such a hard worker on the pitch and I found it a bit distressing to hear some of the fans around me making very negative comments about his footballing abilities.  I appreciate that everyone is entitled to their opinion, but I found that a bit of a challenge to accept.  Kieran is a lovely person – he always makes time for the fans and is wonderful with the mascots.  He would always have a mascot that wanted to walk out with him and the fact that he's a devoted family man shows through.  He's also liked and respected by his fellow teammates as they voted him "Player's Player of the Year" at the last live awards ceremony.  Pre-Covid, Kieran would always give me a big hug when I saw him on matchday – an absolute gentleman with a big heart.
Who is a good tip for promotion and relegation?
I'm not very good at predictions – I think Posh will want to make up for last season and not making the play-offs.  Lincoln and Hull seem to be doing well and I think Oxford will be in the mix somewhere.  It's unfortunate that AFC aren't doing so well though…….
Where do you think MK Dons will finish up this season?
I think that worst case scenario Dons will finish this season mid table.  I do believe that we could easily make the playoffs if the lads keep the faith and Russ continues to do the amazing job that he's doing – at least we would be able to see one game this season!! 
Are you an MKDSA member? If yes, what do we do well and what would you like to see from us? If no what can we do to entice you to join?
We were members but due to an oversight on our behalf I think our memberships lapsed quite some time ago!  I loved going to the Fans Forums that you organised  – it makes the manager and a first team player accessible to the fans and able to ask any questions that they might have.  If we can rejoin online just send me the link and renew.  I think you guys do a fantastic job and we have a really amazing fan club.
A little bird has told us you got married at SMK, that's a unique thing, how did that come about?
As Paul understands my total passion for the club, he came up with the idea of getting married at SMK – he asked me what I thought, and I told him he was a genius!  It really was the happiest day of my life – we've both been married before so tying the knot at SMK was a dream come true and kind of seemed an obvious choice for two mega fans.  We had the marriage ceremony in Analysis and the reception in Tactics which later on we spread out into Pitchside.  We stayed at the hotel on our wedding night then the next day got the train to London to watch the Dons play Charlton! For both myself and Paul, we would consider it a sin to get married on ANY Saturday between the beginning of August and the end of May!  I also think that I have the best wedding photos EVER!! I had to enclose a couple.
Any other comments?
Come on you Dons!!!!