Many thanks to Pilgrims fan 69 year old Garth Timberlake who is answering our questions this week for our Tuesday night fixture at Stadium MK. We last met Argyle a week before Christmas where we sadly lost 1-0 thanks to Joe Hardie 68th minute goal.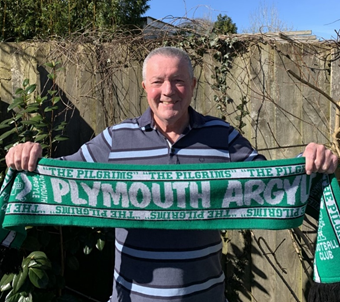 We are now at the business end of the season; how do you assess how your season has gone so far and what are your hope's for the run in?
We are stabilising after gaining promotion from League 2 last season. We had a good start to the season, but this form dipped in November/December where we lost 6 games in a row. We have since gone on to have a decent run where we lost only one game in ten and are currently in 10th position. In all honesty, we are probably just a little short of getting into the top 6 and play offs, but I would hope us to finish top 8, which would be a good return for us.
Where do you think your club will finish up in the league this season?
I would have thought that we could finish in top 8 as we are on a reasonable run of form just now.
What has been your best result this season, and of course your worst?
Let's start with our worst result. We were hammered 5-1 at Fleetwood, which was the first of our 6 defeats in a row, we also lost 4-0 at home to Rochdale, but I would say the Fleetwood result was our worst. Our best result was possibly the 2-1 away win at Sunderland, or the 4-3 win at home to Lincoln, I would say the Lincoln win, just for the sheer excitement and good quality of play from both sides.
Has your club talked about season tickets for the 21/22 season? How are they navigating the possibility of no crowds or reduced capacity?
There has been nothing concrete put forward by the club. Like many others, we are trying to wait as long as possible in order to get some idea of what will be allowed by the government. We are lucky in that we are reasonable secure financially, but with no fans allowed, it is certainly putting pressure on our owners.
Which opposition team that you have played has impressed you the most this season?
Without a doubt it is Peterborough. We played them at home recently, and in the first half we were comfortable, but a goal from them after only 17 seconds of the second half put huge pressure on us to respond. They sat back and picked us off at will to be honest and thoroughly deserved their 3-0 win.
Which player has stood out for your team this season, and which player has come through the ranks and looks a real prospect?
The class of Danny Mayor oozes out of him. He is so good in linking play (a bit like Andrew Surman) and provides so much space for our other players, so he is an easy pick. We have 2 good youngsters who have come up from the academy in Michael Cooper who at 20 is an outstanding young goalkeeper and Luke Jephcott a forward who has currently scored 18 goals this season. Luke gets the plaudits for his goals, but I have a feeling Mike Cooper may go on to better and greater things.
Are you happy with the business you conducted in January transfer window?
We did not do that much in terms of incomings. We signed Ryan Hardie on a permanent basis after his loan spell. We also brought in a forward in Neil Ennis from Wolves, who has had an excellent start with us and at 21 looks like a really good buy, also Sam Wood a defender on loan from Crystal Palace who had to wait for an opportunity due to our good recent run but has been quite impressive on his substitute shows.
Was keeping certain players in January key to the season going forward?
Luke Jephcott was being touted all over the place, so we are glad that we managed to keep hold of him. Especially as he is one of our own.
Which MK Dons player stands out to you as a game changer in our clash?
Your recent signing of Will Grigg is a signal of your intent, and if he can regain his Wigan form, he could prove to be a huge asset to you. However, the player I fear most is Joe Mason, he is an ex Argyle player and had to be sold during bad times for us. It is quite often the case that a former player can play against his old club and prove to be a real thorn in the side. I hope that is not the case with Joe. 
What style of play can we expect to see from your team?
We play quite a strict 3-5-2, so we like to attack where we can. we are also useful on the counterattack. However, because we play such an attacking formation, it can make us a bit vulnerable defensively, so there could be some goals scored in our encounter.
Have you ever been to Stadium MK, if so, what's your opinion on it?
No, I have not been to the MK stadium, but the images I have seen of it show a really good stadium, I think your ground capacity is 30k which is big by League 1 standards. It would be good to know what sort of passion is generated by the fans. We have a smaller stadium at just under 20k, but this does enable a really good atmosphere to be developed. I hope to get to see your stadium next season.
Where do you think the MK Dons will finish in the league table?
After a poor start, you appear to have got your act together and have risen up the table. I think you are a bit like us, you need to improve on your consistency. I would imagine you will finish between 12th- 15th.
From what you have seen, who are your tips for the league title, promotion, and relegation?
Certainly Peterborough to win the division, along with Portsmouth and Sunderland. I think Lincoln may blow up a bit because they have a small squad, but I still think they will finish in the play offs, along with Hull, Accrington, and Oxford.
Can you give us your match prediction?
I think goals will be scored and predict a 2-2 draw.