think this is the first time we have had a lady Trash Talker, so we are very grateful to 52 year old Kathryn Townsley who is the Chair of the Hull City Official Supporters Club for taking part. Many thanks Kathryn to you and all Tigers fans, stay safe, and good luck with the push for promotion.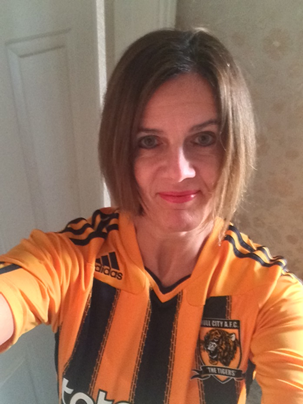 Where do you think your club will finish up in the league this season?
Play offs.  It's Hull City we're talking about, we never do things the easy way.
What has been your best result this season, and of course your worst?
 
Portsmouth away 0-4 – easily our best match, especially against a club that hadn't conceded a goal in their previous 6 games.
Worst – home to Shrewsbury Town – we lost 1-0. It was just an awful watch. Enough said.
Do you think your club has acted well towards the fans in terms of compensation, offers and discounts for season ticket holders?
Personally, yes I do. It's hard for all Clubs at the moment. Income from all quarters has reduced considerably – gate receipts, memberships / season ticket cancellations, advertising, will all be lower due to no one being at the game, for us, we're also not having the same opportunities as we had in the Championship to be on the TV and have an income stream from that avenue. The Club have turned our monthly subscription into points to redeem in the Club shop and for special offers (autographed shirts etc), but we have to remember wages still have to be paid to player, coaches, non-playing staff etc despite us fans not being able to go to the stadium to watch matches. I'm fortunate enough to still be able to afford to pay my monthly membership subs, and whilst I could choose not to, I have continued, because I want to contribute towards my Club and help keep it going.
Which player has stood out for your team this season, and which player has come through the ranks and looks a real prospect?
Jacob Greaves. Centre back. Left footed. "One of our own" – he's from Hull and his dad Mark played for City too. Jacob was on loan at Cheltenham Town last season but came into the team early in the season and has just grown stronger each match. A definite prospect. But don't tell any scouts!
Which MK Dons player stands out to you as a game changer in our clash?
Scott Fraser – securing him on a free with his goals, good move!
What style of play can we expect to see from your team?
Thankfully not lump it & hope!
Have you ever been to Stadium MK, if so, what's your opinion on it?
Sorry no, it was on my list this season!
Where do you think the MK Dons will finish in the league table?
12th.
From what you have seen, who are your tips for the league title, promotion, and relegation?
I'd like to say we'd win the League, but I'll go with us being promoted along with Doncaster and Lincoln (title). Relegation wise, hmm, Burton Albion, Wigan Athletic and Bristol Rovers.
Can you give us your match prediction?
Let's hope it's a good game, but I can't go against my team – City win 2-1.