Its good to see the impact on Accy Stan with Covid 19 hasn't done them much harm and they are doing superbly well and defying the expectations of a number of football pundits by sitting in the top half of the table.
We are pleased, in fact more than pleased that we have one of our older generation of fans to answer the questions this week, its none other than Tony Robinson aged 66 who lives in Canada, no not that Tony Robinson of Time Team or Blackadder fame, another Tony Robinson, and that's him pictured below dishing out a trophy. We are guessing he's heard the Blackadder jokes before, so apologies Tony, thanks for your well-considered answers and we would like to wish you a Merry Christmas, and the best of luck for the remainder of the season, hopefully we can catch up with you again for the return fixture.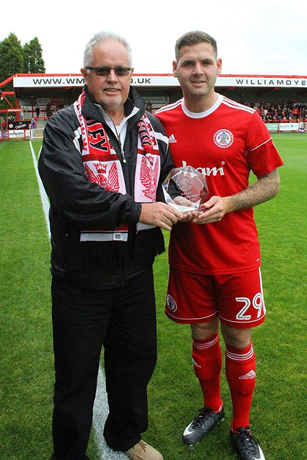 Tell us a little-known fact about your club?
Accrington Stanley was NOT a founding member of the Football League in 1888, it was Accrington FC, although the club does have a plaque in the Director's Lounge commemorating Accrington FC as a founding member (We hope you aren't claiming another teams history Tony, that would never do). Not sure if any town has had two separate teams resign from the Football League like Accrington FC did in 1892, and Accrington Stanley in 1962. 
What impact has Covid 19 had on your club, do you worry for its future if this continues?
As you may know it has affected Stanley in a big way with 19 players and staff testing positive, resulting in the postponing of matches against Plymouth, Swindon, and Hull, but fortunately, the symptoms were minor, although I am worried that other teams will be affected, but to answer your question, the club is in a good place financially with owner Andy Holt. 
What has your club done to compensate fans on season ticket sales?
Offered refunds if asked for by fans and provide the season ticket holders access to the club's iFollow. 
What were your expectations for your club pre-season, and have you changed your mind on what you have seen so far?
With Stanley our first goal is really survival and to become an established League One team. I think with John Coleman and Jimmy Bell we are in great hands and a real chance for top half of the table. 
Who has been your breakout player this season?
Matt Butcher and Joe Pritchard both midfielders are having great seasons, but I'd have to say Toby Savin our goalkeeper who is only 19 and played his first ever Football League match vs Peterborough and had a clean sheet with a 2-0 win. He's keeping Chelsea loanee keeper Nathan Baxter on the bench. 
Who should Dons fans watch out for as a game changer?
Keep an eye out for Dion Charles up front, he had a three-game suspension which slowed him down a bit, but he can win a match on his own, and his goal against Peterborough is worthy of goal of the season. Also, we have a strong and tall back line that doesn't lose too many headers in their own box. 
What's your opinion on IFollow?
I wasn't a big fan to begin with, but for me living in Canada it's the only way of watching since I couldn't make my annual trip over for the fall because of COVID-19. 
Match prediction?
For the match in Dec at the Wham Stadium I would say a 2-1 Stanley win as our home form is pretty decent. 
Who is a good tip for promotion and relegation?
Based on the season to date I'd have to say Peterborough and Charlton for automatic promotion and I'm going with Sunderland as the playoff winner. Relegation I think Burton Albion, Shrewsbury, Northampton, Swindon, Gillingham are all in the mix and you can't rule out Oxford at the moment. 
Where do you think the MK Dons will finish up this season?
Your home form is decent so I would put MK Dons 15th or 16th.