Well would you believe it, when we set out on this quest to engage opposition fans to gauge their opinions, and knowing how so many have a soft spot for the MK Dons we thought we may struggle with a few teams but TTT has come up trumps so far, and excelled himself again this week by tracking down another AFC fan willing to talk to us, and this one is an exceptional young man, so many thanks to 20 year old Laurence Hamilton for taking the time to answer our questions, Laurence is pictured below.
Tell us a little-known fact about your club?
Well it's not too little-known, but we do have both the longest unbeaten run and longest ongoing shirt sponsor partnership in English football, and we will be one of the first clubs to bring in safe standing
What impact has Covid 19 had on your club, do you worry for its future if
this continues?
If it continues in the long term, most definitely. As a fan run club we do rely quite heavily on donations and fundraising, and we have had to release a number of our academy players lately in the wake of the outbreak. We have, however, had some outside investment recently to help us build the stadium, and most of our fans (as I suspect is the case with other clubs) aren't cancelling their season tickets in order to support the club financially, which has been a great help.
What has your club done to compensate fans on season ticket sales?
Well as I said before, most fans don't want to be refunded anyway. What the club has done though is roll out a debenture scheme where fans can reserve a seat for a number of years, with the option to change seats at the end of each season should they choose. I believe the debenture (which is paid in monthly instalments) is in place for 10 years, with an extra year free due to the current climate, and debenture holders receive a discount on their season tickets.
What were your expectations for your club pre-season, and have you changed your mind on what you have seen so far?
I've learned not to get my hopes up when it comes to Wimbledon! Our preseason campaign was mostly wins, but I took it with a pinch of salt. We've had a few promising signings, but we also let a number of key players go at the end of last season, so I (like a lot of other fans) didn't expect anything great from the season. We have had a very promising start though, especially with 6 goals in our first two games. If we keep this record going, we might dare to dream. Our little fairy tale could use another chapter… and now that we're finally home, this could be the perfect season for just that.
Who has been your breakout player this season? Joe Pigott has certainly improved his form so far compared to last year. But out of all the boys on our roster I'd probably have to go for Ryan Longman. We seem to rely on young talent every season (as we saw last year with Forss) and this year Longman seems to have stood out over the others, certainly in terms of goals. Obviously, goals aren't everything, but considering how much we struggled to score previously I'd welcome a scorer like him any day.
Who should Dons fans watch out for as a game changer?
Depends which Dons you mean of course! But in this context, I think Paul Kalambayi has definitely showed out recently, especially considering how he spent most of last season recovering from injury. His defensive work especially stood out in the game against Plymouth, even if we did go on to only get the one point from that fixture. We always have been slow starters, so perhaps if that game happened later in the year, we would've won it, especially with the way Kalambayi was playing.
What's your opinion on IFollow?
I haven't been too invested in iFollow lately as multiple supporters across the league have been complaining about glitches in the software, including one episode where one game apparently accidentally began to show the Sunderland fixture instead.
Match prediction?
I must confess I didn't know there was a match prediction feature… but to be fair, I tend not to pay attention to any type of predictions anyway. Most predictions have us as favourites for relegation every year, even though we clearly don't seem to pull that off, and a lot of other predictions had Oxford as favourites to win the league… I think the table speaks for itself there, but anyway I will go for 2-1 to Wimbledon.
Who is a good tip for promotion and relegation?
It's funny I should mention Oxford in the last question… as many teams have found out the hard way (the likes of Orient and Swindon) as there seems to be a curse on the playoffs, whereby at least one of the teams who didn't win the grand prize is doomed for the following season, and if recent form is anything to go off I think United will be the next victim. Portsmouth has also had a poor change of fortune, and Shrewsbury have almost been trying to go down in recent years (much like us), perhaps this year will be one too many for them. As for promotion, Lincoln have been a real dark horse so far, and because I love underdog stories, I hope the high doesn't die off for them, and, dare I say it, but Hull seem to be keen on bouncing back, and I hope so too… mainly because I can't stand the idea of being "Mauled by the Tigers" when away days are a thing again.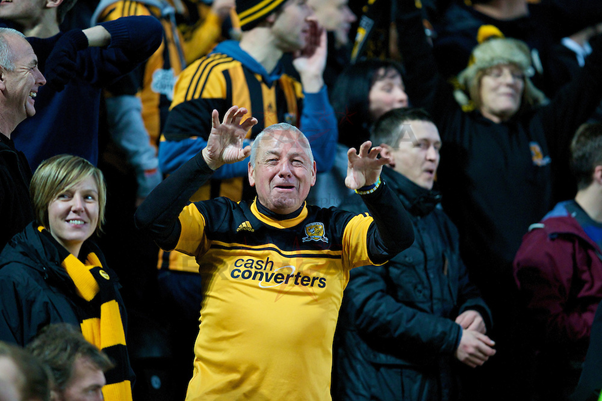 Where do you think the MK Dons will finish up this season?
Hopefully below us! In all seriousness though, I can't see either of us having a change in recent luck. In the event that we don't work our Wimbledon magic again, I reckon that we will be a firm 13th… as for you, I see you finishing where we usually do, above the drop zone (or in it), and this is boldly assuming the season even finishes.
Editor – Many thanks to Laurence for some cracking answers, one of the best if not the best this season, we wish you well at the Meccano Stadium and hope we can get down to visit you very soon and cross it off the list.