Once again, we trawl round looking at the facts and figures of our next opponents, and this time in the shape of Gillingham FC.

We were due to play the Gills towards the end of the season, but unfortunately it was another one of the games lost to Covid. So the last meeting between the teams came a few days before Christmas 2019, and it was not only significant because of the large following the Dons took with them, and the superb banter that day, but Alex Gilbey scored what turned out to be the Goal of the Season for the 2019/20 season, unfortunately though we were on the wrong end of a 3-1 score line.
Without further ado, let's take a look at Gillingham.
THE SEASON SO FAR – GILLINGHAM – The Gills are currently laying in 4th spot with a record of PLAYED 5, WON 3, DRAWN 1, LOST 1, GF 9 & GA 6 and 10 POINTS.
CURRENT LEAGUE FORM AT A GLANCE – LWWDW
LEAGUE RESULTS 2020/21
Gillingham 3 Oxford Utd 1
Shrewsbury 1 Gillingham 1
Gillingham 2 Blackpool 0
Wigan 2 Gillingham 3
Gillingham 0 Hull City 2
YEAR OF FORMATION – 1893 as New Brompton
CLUB NICKNAME – The Gills
HOME GROUND – Medway Priestfield Stadium (11,582)
THE MANAGER – Larger than life itself its Stephen J Evans aged 57 and born in Glasgow.
Evans began his youth career at Clyde United in 1979 as striker but his career was blighted by knee injuries and he was forced to retire after just 168 games and a good strike rate of 42 goals in that time. He also had spells at Albion Rovers, Ayr United, Hamilton Academicals and St Johnstone.
His first managerial role was at Stamford in 1994, and after four years there he moved to Boston United and very quickly came to the attention of the FA with the much publicised contract irregularities scandal in which he was found guilty of and served a 20 month suspension from the game and fined £8,000.

Apparently, Evans was involved to some degree in falsifying contract details, presumably getting round some sort of Fair Play regulations in place at that time. Evans has been no stranger to the authorities for tax evasion for one, and on one occasion he was escorted from the Blundell Park ground at halftime by Humberside Police accused of foul and abusive language aimed at the 4th official.
Getting back on subject, Evans also managed Crawley Town, Rotherham United, Leeds United, Mansfield Town, Peterborough, and Gillingham since May 2019.
For all the bad about Evans you cannot deny he has had a fairly good career albeit at a pretty low level.

His career stats stand at GAMES 1,012, WON 435, DRAWN 280, LOST 297 giving him a useful 43% WIN RATIO.
MASCOT – Tommy Trueblue who takes the form of a horse, presumably because of the county badge of Kent.
FAMOUS FANS – Oz Clarke (Food & Drink Presenter) and Brian Moore (Football Commentator).
PLAYED FOR BOTH – Former Dons fans favourite Ouss Cisse, also having turned out for both are Adam Chicksen, Ben Chorley, Jay Emmanuel-Thomas, Tom Flanagan, Luke Howell, Albert Jarrett, Rowan Vine and George C Williams.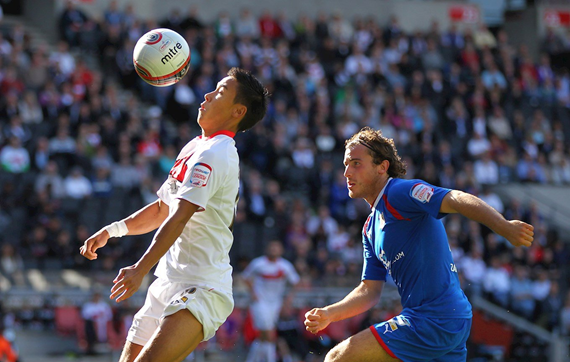 FORMER MANAGERS – A few B List managers to tell you about, Glenn Roeder who once managed West Ham, Micky Flanagan, Tony Pullis, Peter Taylor, Andy Hesenthaler, former Dons No 2 to Robbo John Gorman, former Dons Manager "Mad Dog" Martin Allen and the now sadly departed Justin Edinburgh.
SHOOTERS BOOTS – Jordan Graham with 5 goals and is currently averaging a goal every 108 minutes. He's had 7 shots on target so far giving him goal conversion rate of 71% which is exceptional at any level.
CURRENT INTERNET ODDS – MK Dons 16/11 Draw 9/4 Gillingham 8/5
LAST TIME ROUND – Saturday 21st December 2019 – Gillingham 3 MK Dons 1
Team – Nicholls, Brittain, Poole, Walsh, Lewington, Houghton, McGrandles (Reeves), Gilbey, Boateng (Bowery), Agard (Nombe), Mason.
Unused Subs – Williams, Dickenson, Moore, Kasumu.
Goals – Mandron 31', Hanlan 33', Gilbey 52', Ehmer 57'
Referee – Nick Kinsley (2 Yellows)
Attendance – 4,739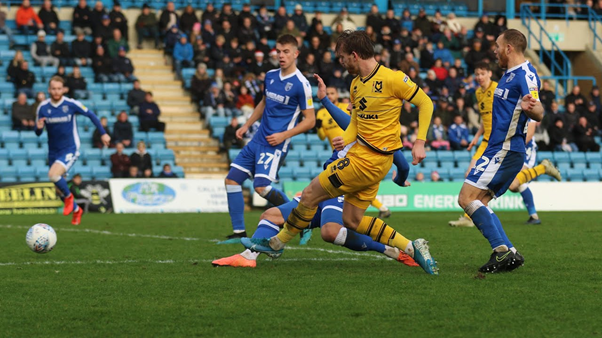 HEAD 2 HEAD
2019/20 – MK Dons v Gillingham (Cancelled – Covid)
2019/20 – Gillingham 3 MK Dons 1 (Gilbey)
2017/18 – Gillingham 1 MK Dons 2 (Aneke, Williams)
2017/18 – MK Dons 1 Gillingham 0 (Sow)
2016/17 – MK Dons 3 Gillingham 2 (Muirhead, Barnes, Lewington)
2016/17 – Gillingham 1 MK Dons 0
2014/15 – Gillingham 4 MK Dons 2 (Cole, Reeves)
2014/15 – MK Dons 4 Gillingham 2 (Grigg, McFadzean, 2 Own Goals)
2013/14 – MK Dons 0 Gillingham 1
2013/14 – Gillingham 3 MK Dons 2 (Bamford 2)
2009/10 – Gillingham 2 MK Dons 2 (McCracken, Easter)
2009/10 – MK Dons 2 Gillingham 0 (Easter, Wilbraham)
2007/08 – Gillingham 1 MK Dons 1 (Johnson) JPT – Dons won on pens 5-4
2005/06 – MK Dons 1 Gillingham 2 (G Smith)
2005/06 – Gillingham 3 MK Dons 0