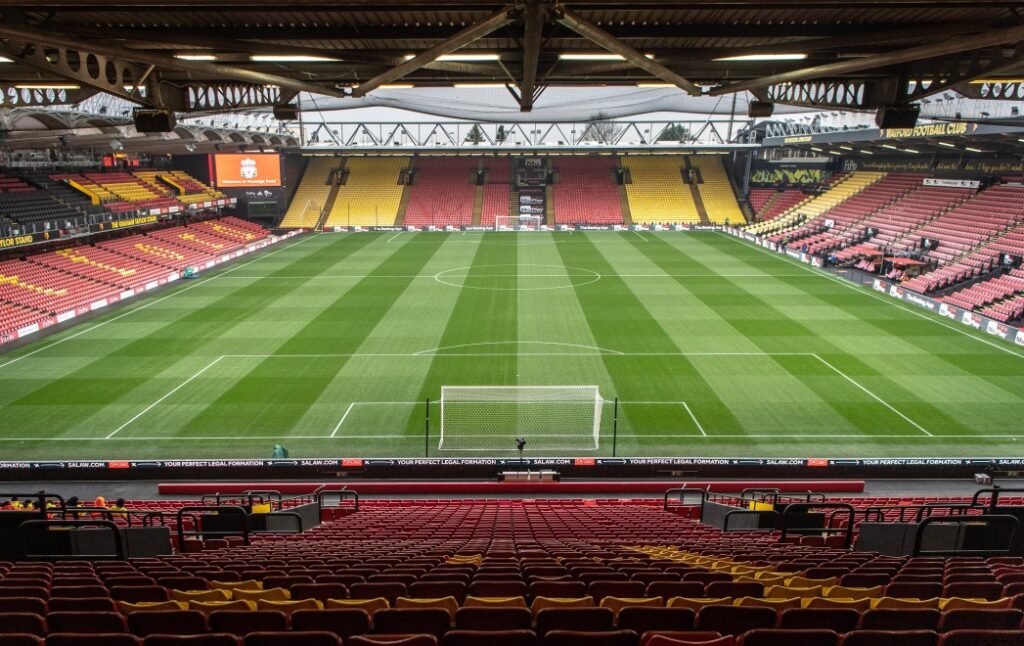 Vicarage Road (WD18 0ER) boasts a 21,577 all seater stadium and is a small hop from SMK of about 40 miles, so it should take about an hour by road, or 30 to 40 minutes by train.
Normally for League games away fans are housed one side of the Vicarage Road Stand at one end of the ground. This stand is shared with home supporters separated by netting.
Around 2,200 visiting fans can be accommodated in this area.
Whilst we are spoilt with wide concourses at SMK, Vicarage Road is cramped, and it can get very congested, on the flip side though there appears to be ample leg room which makes a pleasant change.
The usual football ground fayre is on sale.
With the Vicarage Road ground being in the centre of town there are plenty of eating and drinking establishments with the allocated pub for away fans looking to be Odd Fellows, which is about 100 yards from the ground, failing that there is a Wetherspoons called the Moon Under The Water that also serves away fans.
Parking is not great in the vicinity of the ground, but several local businesses seem to offer parking close by for £10 per car.
The nearest railway station is Watford High Street, a ten-minute walk away from the Vicarage Road ground but we are likely to come into Watford Junction Railway Station, which is about a 20-minute walk.
Watford also has its own London Underground tube station, which is on the Metropolitan Line and is situated just under one mile from Vicarage Road.