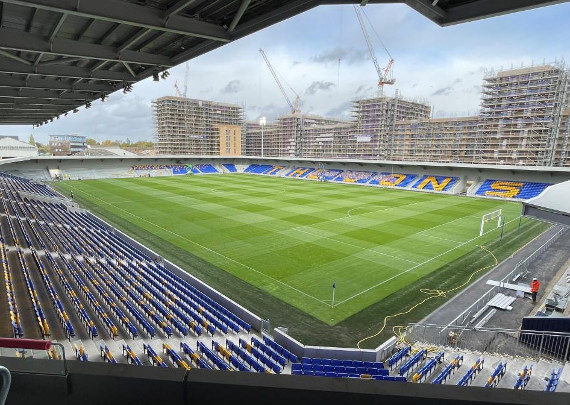 AFCW moved into their new ground last season and didn't see one paying customer through the door, and possibly it was a good thing as their home form was pretty appalling. The 2021/22 season will welcome fans to a bright and shiny New Plough Lane that has all the feeling of a Meccano kit, as despite the artists impression of a spectacular mini dome built by Buckingham Construction (the same people that built our stadium), its is anything but with three sides of the ground consisting of temporary stands plonked in between a property development, now what was it they said about us and our stadium.
Apparently we are supposed to be jealous of this 9,300 capacity ground, but we should say it boasts modern stadia type features, with much better disabled facilities.  
Currently we are not sure of the travel arrangements for this new venue, previous games have seen bubble type arrangements, hopefully that will change or relax with the new stadium, until then it is pointless speculating or even suggesting travel, parking or a decent away pub, the likelihood of us being made welcome by a pub within walking distance of the ground is highly unlikely.