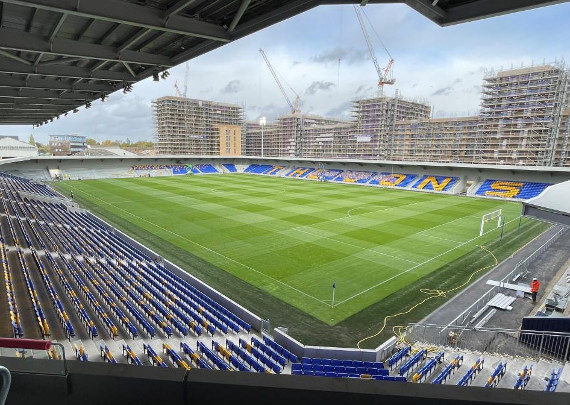 AFCW moved into their new ground last on 3/11/20. The 2021/22 season saw them welcome fans to New Plough Lane that has all the feeling of a Meccano kit, as despite the artists impression of a spectacular mini dome built by Buckingham Construction (the same people that built our stadium), its is anything but with three sides of the ground consisting of temporary stands plonked in between a property development.
Since moving to NPL, the "Bubble" arrangements have been lifted allowing us unrestricted travel, (We recommend you use the club travel if possible, contact the Club Box Office to book a seat on the coach).
If you are going to make your own way to NPL we recommend you take as many precautions as possible. If driving, park as far away as possible from the ground and remove or hide anything that relates to the MK Dons out of view.
Look out for the club's advisory information which will be suggesting safe routes and Underground stations that have a police presence on and around them.
We also recommend if making your own way to the ground you keep your club colours hidden until in the ground and not draw attention to yourselves.
One final comment on this, the MKDSA and Dons Action have worked hard to lift the bubble for this game, please don't do anything that would put these measures in jeopardy for future seasons
It is pointless us speculating on a decent away pub, the likelihood of us being made welcome by a pub within walking distance of the ground is highly unlikely.