By Alfie Marlborough
In another inspired feature Alfie goes back in time to find some interesting happenings for you to enjoy.
Alfie pops back in his time machine to 3rd November 2018
Four years ago today, Second placed Dons travelled south to twelfth place Crawley in the Dons' Seventeenth fixture of the 2018/19 League Two season.
Paul Tisdale's Dons lineup up in a 5-2-3 that looked like this:
Nicholls, Williams, Lewington, Walsh, Gilbey, Aneke, Agard, Houghton, Brittain, Cargill, Healey.
Subs: Watson, Pawlett, Hancox, Simpson, D'Ath, Moore, Jackson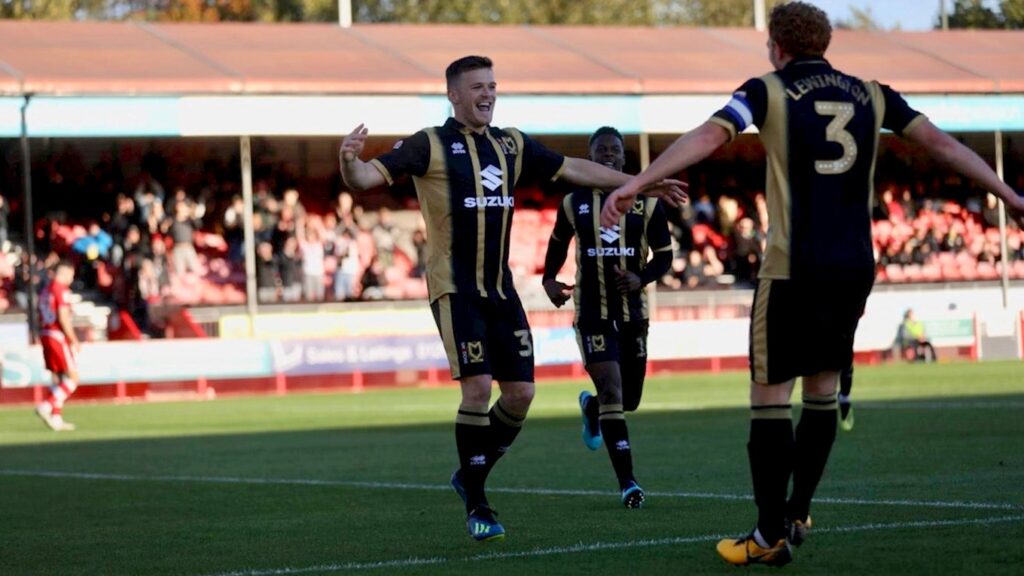 It Only took Dons seven minutes to get the lead through On-loan Striker Rhys Healey. Lewis Young's poor touch allowed Lewington to collect the loose ball on the left hand side before whipping a low ball into Healey who was able to tap in from close range.
Just Eleven minutes later, the Dons doubled their advantage through Kieran Agard. Rhys Healey picked up the ball on the edge of the box. The shot which followed was blocked by a Crawley defender but despite offside shouts from the home side, Kieran Agard was in the right place at the right time to pick up the ball inside the box before calmly slotting the ball past Morris in the Crawley net.
Rhys Healey had already scored and assisted but the Striker wanted more and that was exactly what he got in the closing stages of a brilliant half for the Dons. Alex Gilbey played the ball out wide to Kieran Agard who's sublime cross was put on a plate for Healey who sent the keeper the wrong way and struck home for his second and the Dons' third.
Top Scorer Chuks Aneke got in on the action shortly after the hour mark. Rhys Healey pounced on a poor touch from Mark Connolly and sprinted towards goal. The striker squared it to Aneke before firing home to add another goal to his tally for the season and a fourth for the Dons who were easing their way to Ninth League victory of the season.
The Dons were rewarded for their dominant showing in West Sussex with the three points to strengthen their chances of promotion.
Rhys Healey had an incredible afternoon contributing to all four goals with two goals for himself and providing two for Agard and Aneke as the Dons coasted their way through the afternoon.
The Dons were able to secure promotion back to League One later on in the season on the final day of the campaign in a winner takes all match against Mansfield which ended up in a 1-0 win for the Dons.