Its never easy getting an AFC fan to sign up to this. We have in the past engaged with one or two AFC fans, one at least who thought we would print his colourful rant, of course we are not going to. It wasn't the fact we wanted to edit his comments but once we took out the foul and abusive language there was little content left, luckily, we found a replacement, a young lad with an adult head on his shoulders, and today we have found someone else. He prefers we do not use his name as he fears a certain amount of animosity from those who he describes as "The Dickheads", his words not ours, so we will respect that... a decent read, many thanks.
1 – We are at the halfway stage of the season, has it gone about how you expected for your team so far, has it been better, or turned out to be a bit of a car crash season?
It has been as I expected really, with the amount of money we have at our disposal we are always going to be down the pecking order when it comes to new signings, so I wasn't expecting that much, and looking at the team before the season, I felt it was going to be another season of avoiding relegation. Many of the players are very young and still learning the ropes, and even though Mark Robinson has been at the club for many years in different roles, this is his first job as the Gaffer at any club, but he deserved the chance, I just hope he gets the time he needs and the backing.
2 – As fans we are never 100% happy about our club, is there something about your club that really annoys you?
Obviously, it is fantastic to be back home at Plough Lane, but I am concerned over such things as 25-year season ticket deals, not many have taken it up as far as I know, but to me it seems sooner or later we aren't going to be getting much revenue from season tickets, I know it's a long way off, but it feels like we are mortgaging ourselves up to the hilt, and it will comeback to bite us on the **** in the future.
3 – All fans love an away day; can you tell us which ground you have enjoyed visiting the most and why, on the flip side which ground turned out to be a real disappointment?
I know this won't go down well with my fellow Wimbledon fans, but I like your stadium, but it is a bit empty and lacking in atmosphere, it is the souless bowl everyone mentions, but the facilities are Premiership quality. I suspect it might be a bit noisier when we visit but being a midweek fixture won't help, and I dont know many that are making the trip. I know its not the best ground in the EFL, but I really enjoyed going to Morecambe earlier in the season, it's a long journey, but to snatch the winner in the last minute made it a memorable trip. As for disappointing grounds, Gillingham is a real dump with its temp (Hahahaha) stand, I never like going there.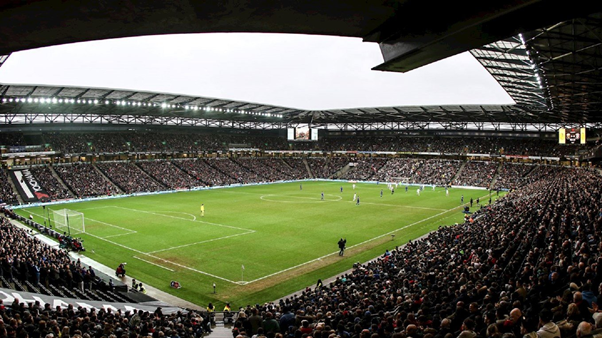 4 – Most fans have a special piece of memorabilia in their collection, a unique item that means something special to you, do you have such an item?
I like collecting memorable programmes, so I have one or two that mean a bit to me, the 88 Cup Final of course which I was at, plus one or two from our Non-League days, and it might surprise you I have the first one from MK, just to add it was the only game I went to, but I wanted to see what it was like, sorry it wasnt for me, it just felt so manufactured.
5 – Every team has their own bogey club they just cannot seem to beat, who do you think yours is?
We obviously don't always get much luck against you, that fluke goal against us in the FA Cup first meeting was painful, so I will have to say MK.
6 – Throughout the course of the season, victory over which club gives you the biggest buzz?
Do I really need to answer this, plus its always nice to put one over any side that has Karl Robinson as its manager, I can't stand the gobby p****.
7 – Which player for your club is likely to be the biggest factor in success or failure of the result after 90 minutes?
A few I hope, if they can't be up for this game, what game can they be. Tzanev can be a great keeper on his day, a great shot stopper, but sometimes a bit erratic. But if Palmer, Rudoni, and McCormick are up for it, we could just take the points, but I do worry the occasion will overwhelm some of our less expereiced players, but I figure you will be more frightened of losing, and that might be your downfall.
8 – Is there any MK Dons player you feel could spoil your day?
I'll be honest I don't know many of your players, I don't usually take much notice, does that OAP Lewington still play for you? I've just looked at the League 1 stats so I will say Scott Twine but I understand he might be leaving by then.
9 – We know its early still, but do you have any nailed-on selections for promotion and relegation?
I'd say Rotherham are about the best team we have played so far, a long journey on a Tuesday night and we got beat 3-0, the score probably flattered them, but a good side. Plymouth are hard team to break down, and I'll take Sunderland as well to go up. To go down Doncaster ain't the best, 3-0 up the other day and lost 4-3, that takes some doing, Crewe are also poor, and Lincoln aren't the team they used to be, hopefully Gillingham go down as well, no reason, but that ground is a dump, as for us, and you know we will break your hearts again and pull clear of the drop.
10 – Many thanks for taking part, all we need now is a prediction for the game?
I would like to think we can be in contention in the final few minutes, we have a bit of a liking for late goals, but I will be happy to come away with a draw, I'll say 1-1.