Many thanks to the wonderfully named Joel Shooter a 24 year old fan of the Shrimps for taking part in this weeks edition of Trash Talk. Some indepth answers thats for sure. Good luck to him and the Shrimps for the rest of the season.
1 – We are about a quarter of the way through the season, so how is it looking for your team so far?
Initially, it was looking great! Performances were pretty good, and we were getting some great results, such as the win against Sheffield Wednesday. Unfortunately, things have taken a bit of a down-turn since then. The loss of centre back Sam Lavelle has been felt, with his physicality and aerial dominance in defence being something we've greatly missed. It also seems like a few stoppage time defeats have rocked the confidence of our relatively young squad, who are now struggling to consistently get their 'mojo' back.
Stephen Robinson has tried a few different formations and set-ups but to little avail, so the issue does seem to be more psychological rather than tactical. We also miss a bit of physicality and steel in our side, which will probably have to be addressed in January. In the meantime, we have Shane McLoughlin coming back into our midfield to provide a bit more energy and bite (despite him not being the biggest), so hopefully that can help see us through to the transfer window. It looks like his return made an impact with our victory against Fleetwood, which has hopefully shot confidence back up!
2 – We are noticing that some clubs are struggling with attendances, are you back anywhere near to your pre-Covid attendances?
Prior to the pandemic, our attendances were usually just shy of 2000. They're now consistently around the 4000 mark, and we broke our record attendance at the Mazuma with the match against Sheffield Wednesday. There's obviously been a lot of feel-good factor around the club with the promotion, and our board have been very smart in seizing that mood and offering incredible prices on season tickets – £150 for a standing adult ticket! We're lucky to have a great board who are advancing the club off the pitch as well, and hopefully we can keep maintaining these attendances throughout the season. For a bit more context – we've not far off trebled the amount of season ticket holders we previously had.
3- We note that many clubs are going across to digital tickets and cashless stadiums and this has caused major problems for fans, is this something that has affected you as a fan, home or away?
As somebody who is in a younger generation (24), digital tickets and cashless kiosks etc. are ideal for me. I rarely have cash on me anymore! In fact, I wish digital tickets were more common. I live in Manchester so am unable to pick tickets up from the club shop for away games. It's fine really, as they just get sent down to the away ticket office, but I would enjoy the extra peace of mind in having a digital ticket on my phone. However, I do totally understand that perhaps for an older generation of fans, physical tickets do still have an important place, and as convenient as digital ones are, nothing quite beats having a physical one!
4 – Every club has played about half the teams in League 1, who do you think is the best and the worst team you have played so far?
Rotherham were definitely the best. You can see what a formidable and well-oiled unit they've become over the past few years with Paul Warne at the helm. I didn't feel like we played particularly badly in our defeat against them (in fact, it was only a narrow 1-0 thanks to a 30-yard screamer), but it did feel like we were somewhat treading water at times. The worst team must be a tie between Shrewsbury and Doncaster. We played Shrewsbury in the second game of the season, and they looked devoid of basically anything, although I do understand they've picked up a lot since then. Doncaster were pretty desperate – it was very disappointing losing to them. That said, the referee played a huge part in that result in not awarding a penalty for their keeper very obviously rugby tackling our left back from a set piece. Baffling decision. Should probably have been a red card as well, given no attempt was made to play the ball. Ironically, he did the same thing a couple of weeks later and was consequently punished (I believe against Plymouth).
5 – In our forthcoming game what sort of style can we expect to see from your team?
On our day, some nice passing play with a tinge of directness if called for, something we can afford to do with players like Cole Stockton and Jonah Ayunga. Stockton has rightly grabbed the headlines this season, although Ayunga has looked our most dangerous player of late with a devastating combination of skill, speed and physicality. Having said that, I think Stockton's confidence will be sky high after THAT goal! We don't tend to press particularly ferociously, but when we get it right it's very smart and targeted which can be effective. Given we allowed Fleetwood a lot of the ball in safe areas, I imagine we'll do something similar vs MK Dons. I've felt we've tended to do a bit better against the 'prettier' sides in the division rather than the more physical ones. It's no guarantee of a result, but I'd expect a half decent performance against MK Dons given this.
6 – Is there any current MK Dons player that you would like to see playing for your team?
Interesting question – the things that MK Dons are well renowned for aren't really the things that are in dire need of fixing for us. Who's your biggest, nastiest, ugliest centre back who just loves heading footballs as far as physically possible? That's who we'll take!
7 – Every lower league club fear that the big boys are monitoring their players, is there anybody in your team that is attracting unwanted attention, and might be lured away in January?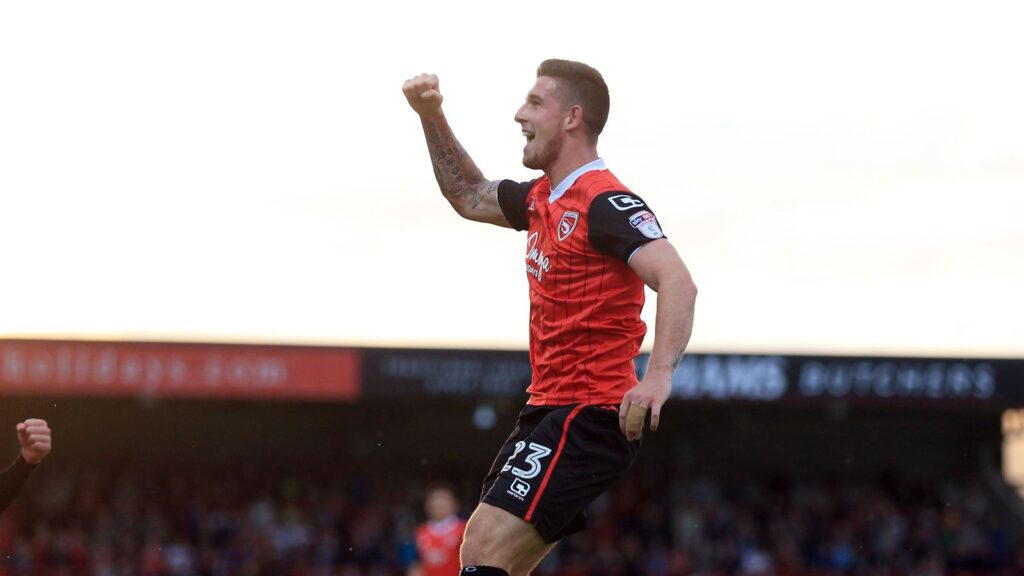 That's a very easy question! The answer is, of course, Cole Stockton. Losing him would obviously be a huge loss, although I'm actually more worried about signing those grizzlier defensive players I've mentioned above. Those are the gaps in our team that desperately need addressing and while the loss of Stockton would be a big one, we have several attacking players already at the club who I think would help soften the blow. I also have a feeling he might want to stay until the end of the season. He's admitted in his younger days he perhaps made some wrong decisions over moves. It maybe he wants to get the most out of this season with us where he's comfortable, before then looking at his options over summer when he'll presumably have more time to sort everything and make sure he makes the right decision.
8 – Is there anyone in your team that we should really fear as a potential game changer?
Cole Stockton, again, but I won't go on too much as you've probably read the same in every other preview! I'd reiterate what I mentioned about Jonah Ayunga – when he switches on his juggernaut mode, he really is a force to be reckoned with when running with the ball. Adam Phillips has an amazing right foot and can absolutely cut defences apart (for context – his underlying numbers in the first half of League Two last season were better than Scott Twine's I believe), but he's hit a bad run of form recently unfortunately. We also have Alfie McCalmont, who's looking like he's really starting to find his groove of late. He also notched two goals for Northern Ireland U21s over the international break, which will hopefully do his confidence some good. A shoutout to Jamaican international Greg Leigh at left back as well whose ability to bomb down the left can be really threatening.
9 – Can you predict where you think your club will finish at the end of the season, and where the MK Dons will finish?
Honestly, I have no idea. If we can get our confidence back and recruit well in the areas we need to in January, then I think lower mid-table. Hopefully that crazy win against Fleetwood has gone some way to doing that. In terms of MK Dons, I'd be very shocked if they didn't at least make the play-offs.
10 – Many thanks for taking part, all we need now is your prediction for the game?
I never have any idea! I'll go ridiculously bold and brash and say 3-1 to Morecambe.
Photo Credits – Sky Sports & themag.co.uk