As we have said before every now and again we get a superb response from one of our oppostion fans to make Trash Talk that little bit special, today is just one of those occasions. So many thanks to Edward Walker for taking the time to answer our questions and we wish him and his much loved Brewers all the best for the rest of the season.
1 – We are about a quarter of the way through the season, so how is it looking for your team so far?
Things are going ok, though I think it's important we as fans remember how terrible things looked 12 months ago. Results have been a mixed bag, with some great wins over the league's early favourites coupled with some defeats where Burton have hardly been able to get a sniff.
The whole thing feels a bit mid-table finish so far, which sounds a bit boring but considering a year ago Burton were propping up the division, it's definitely progress for this new-look side.
2 – We are noticing that some clubs are struggling with attendances, are you back anywhere near to your pre-Covid attendances?
To be honest with you, Burton struggled with attendances pre-covid!
This has always been a small club with one of the smallest average attendances in its division. Burton are a club who have only been in the football league since 2009 and trying to attract fans to the Pirelli when you've got Derby County just up the road, Nottingham Forest, and Leicester City further on, Stoke-based clubs in the same county, and Birmingham-based clubs in the other direction. It's a tough catchment area to be in and it's going to take generations of league football and community presence for the fanbase to grow significantly.
I would say there's a core of around 2000 for home games, and the numbers for away games depend mostly on the distance. It's undoubtedly more comparable with non-league attendances, but we always aim to be there in good voice!
3- We note that many clubs are going across to digital tickets and cashless stadiums and this has caused major problems for fans, is this something that has affected you as a fan, home or away?
Nothing has felt different to me as a fan from the first year I turned up at the Pirelli. Paper tickets, checked and ripped by a man in the turnstile, enter inside where you can purchase a programme and food using cash.
Going cashless and digital is not something I would personally have a problem with, though I can understand why it would cause problems for other people. It does seem to be the way football stadiums are going though.
4 – Every club has played about half the teams in League 1, who do you think is the best and the worst team you have played so far?
The best we've faced would have to be Wigan Athletic for me. Dominating League, One games and competing for the title is what Wigan usually do, last season being the exception given the mess they looked in before the season began.
Their 2-0 win at the DW Stadium last month was a walk in the park for them, helped by Burton being complete ineffective and spending a long period of the game with 10 men. They have tonnes of individual quality and it's shown with the way they've brushed so many teams aside this season. I fully fancy them for automatic promotion currently.
The worst team is trickier to say, I haven't really seen a side that I thought looked awful. Crewe have a lone league win so far, coming at home to Burton on a day when the Brewers were so bad that any team in the country would have beaten them. Morecambe's open, attacking approach certainly leaves them exposed at the back and capable of conceding as many as they score, but I do admire the brave approach their taking to this season. It's very easy to be cautious and defensive when in their position.
I honestly can't call a team I've watched awful this season, but I'd probably have to pick Morecambe as the closest to that.
5 – In our forthcoming game what sort of style can we expect to see from your team?
The complete opposite of MK Dons! …. We know how much Dons enjoy having the ball, and I'm fully expecting that from them again at Stadium MK. Burton have been a side who in many ways prefer having less of the ball, it allows them to maintain better solidity and spring forward on the counterattack when possible. I imagine if the opportunity will present itself then they will also look to press MK Dons within their own half and win possession close to the opposing goal.
Truth be told, Burton strike me as a team who set themselves up to face their opposition rather than try to grab control of games themselves. It could be a day where Burton have their ball at their feet for pretty short periods of time!
6 – Is there any current MK Dons player that you would like to see playing for your team?
There's plenty, but I think I'd personally go with Peter Kioso.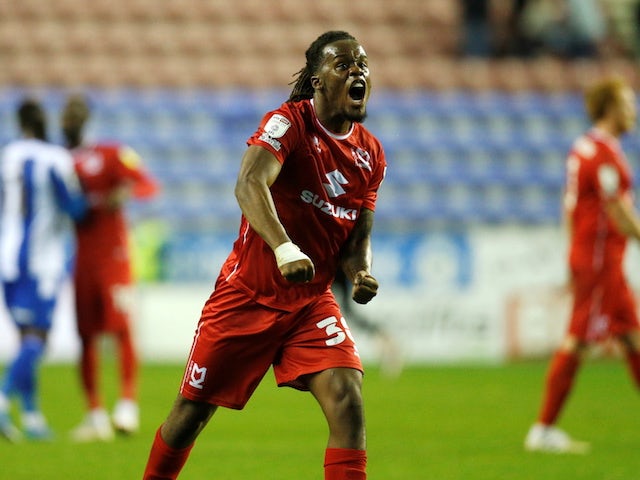 Burton have a decent young right-back in Tom Hamer, but he's in no way the right-wing monster that I consider Kioso to be. I've been a big fan of him since seeing him bombing down the flank whilst on loan at Bolton and I am not surprised to see his encouraging progression. He feels like the perfect kind of player to occupy the entire right wing to himself and contribute to multiple phases of play. Truth be told, I'm pretty concerned about seeing him in the line-up for the upcoming game.
7 – Every lower league club fear that the big boys are monitoring their players, is there anybody in your team that is attracting unwanted attention, and might be lured away in January?
There's no interest that I know of, but I feel movements could be likely. A very busy summer window has left Burton's squad deeper than I've known it for years. With the squad size likely right on the limit of what it's allowed to be, there will need to be outgoings for there to be incomings.
Left-back has looked an unimpressive position so far, so maybe there could be additions there. Some of the non-guaranteed starters could well want consistent gametime elsewhere as well. Attacking midfielder Joe Powell is one who comes to mind there.
After two busy transfer windows, I'm not anticipating too much action this January in truth.
8 – Is there anyone in your team that we should really fear as a potential game changer?
Harry Chapman was signed to be that kind of player. On loan from Blackburn Rovers till January, he caught plenty of attention at Shrewsbury Town last season with his excellent dribbling and ability to score spectacular goals.
His close control has certainly been on show so far, but the goal involvements haven't come yet, and that can leave you feeling quite frustrated by him. In a team that generally doesn't offer a great deal of threat from open play, Chapman is someone I look to as the impact man, and I don't really think he's been that to the level I'd hope yet.
9 – Can you predict where you think your club will finish at the end of the season, and where the MK Dons will finish?
I put Burton 14th before the season began, and whilst I hope they can end up in the top half come May, I wouldn't rule out finishing where I initially thought at all.
MK Dons, despite the early complications with Russell Martin's departure, are a team I really fancy to do well. Minimum play-offs for me, I'd personally go 5th but the competition is certainly fierce.
10 – Many thanks for taking part, all we need now is your prediction for the game?
On the back of the Oxford and Wigan games, this is another match would / could be an ordeal for us Burton fans.
MK should dominate the ball, and if Burton can't look effective from counterattack or set piece situations, they could well cruise to victory.
I feel like there's a notable gap in quality between Burton and the league's top sides, this could end up being another game which showcases that. Rest assured; I'm happily taking a point back if the opportunity arises!
Milton Keynes Dons 2 Burton Albion 0
Photo Credits – SkySports & sportsmole.co.uk