Many thanks to 40-year-old Ben Prickett who is a Tractor Boys fan. Ipswich have bought players like money is going out of fashion, but they have had a sticky start to the season and their 17 new signings are struggling to gel, lets hope they find the Dons a tough nut to crack.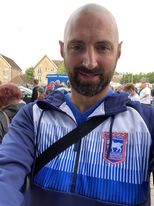 Looking back after a summer of reflection, what is your assessment of how you got on last season?
Dreadful, as with the season previously we started very well and then as soon as we tripped up, we were never able to get going again. Obviously, that resulted in another managerial change and Cook coming in, but he quickly identified the players wouldn't be capable of playing how he wanted, and the season just died.
Looking forward, what are your expectations and hopes for this season?
With the players we've brought in and the new set-up from top down it's hard not to be excited. Expectations are high, not in an arrogant way but we can't accept mediocrity. We should be in the top 6 all season without doubt.
Can you tell us a little unknown fact or Historical event people may not have heard of?
We're 1 of only 8 clubs to have not yet played at the new Wembley.
Are they any players "breaking through" from your system who could be the next big players for your club?
Armando Dobra is the obvious one (of those expected to remain at the club). Cameron Humphreys and Bailey Clements are highly regarded too but their chances this year will be limited I'd imagine.
How have your season ticket sales gone with potential issues with restrictions? We have capped all our season tickets at £230 in all areas in case of local lockdowns to cover the £10 a game on iFollow. Has your club come up with any Initiatives?
I believe we've sold about 12,000 season tickets which is pretty good going considering the poor 3-4 seasons we're coming off the back of. Prices have remained consistent over the years. They're not the cheapest but importantly the U-12 tickets are well priced so that makes it palatable for a family. I've managed to get me and my 2 boys season tickets for what works out to be £350 in total which is £15 per game so I don't think you can grumble at that really.
Which MK Dons player stands out to you and why?
The obvious one would've been Scott Fraser, but he moved on I think 😉. Mo Eisa is a cracking buy for you. I think in the right system he could score a load. Will be interesting to see how Troy Parrott gets on having been with us last year.
What style of play can we expect to see from your team?
4-2-3-1 morphing into a 4-3-3 in attack is what I expect. Cook likes his teams to play fast paced, attacking football so I'm hopeful that's what we're dishing up now he's got his players through the door. I expect to see the full backs pushing forward to really give us numbers in attack and stretch the play wide.
Have you ever been to Stadium MK, if so, what's your opinion on it?
Yes, many times both as a 'home' supporter and on a couple of occasions as an Ipswich fan. I also went to the Hockey Stadium when you were using that temporarily. I lived in MK growing up and until the last few years when I moved away so I used to go a lot when Dons were in L2 and if Ipswich didn't have a home game. Beautiful stadium, just not much to do for travelling fans in/around the stadium pre-game. I know you all get a load of stick as being 'Franchise FC' but personally I'd like to see MK Dons get to Premier League. With that stadium and for the MK community I think it would be a great place to be.
Who are your tips for the league title, promotion, and relegation?
I'll will say us for title (in hope more than expectation), then I think you're looking at Wigan, Portsmouth, Rotherham, Lincoln & Sheff Wednesday. Pick another 2 from those. I'd say Wigan and Rotherham. For relegation it's hard to see past those promoted last year really in Morecambe, Cambridge and Cheltenham. Not sure on the 4th relegation, could be any one of a number. This league is unforgiving if you get a poor run or a poor start.
Can you give us your match prediction?
I'll say 1-2 to Ipswich.