Its always a pleasure to welcome fans from the opposition onto our website to take part in Trash Talk and this week we welcome 16-year-old Alyssa Rowell who is a massive Black Cats fan and has given us a great insight into life up at the Stadium of Light. Good Luck for the season ahead Alyssa and many thanks for taking part, hopefully you can come back on later in the season and compare notes.
Looking back to last season after a summer of reflection, what is your assessment on how things went for your club?
Last season was obviously a strange one for all fans considering we weren't allowed to go to the games. We started off the season with manager Phil Parkinson and from the start of his managerial reign it was evident from the performances on the pitch that he was never the man for the job and rather a swift appointment to fill the void left by previous manager Jack Ross.
We started off that season quite poorly with lots of stalemate results (nothing new for us Sunderland fans) and were sitting in 7th before the appointment of current manager Lee Johnson. The former Bristol City man seemed like the perfect fit for the job, excellently complimenting the takeover by Kyril Louis Dreyfus and hiring of Sporting Director Krisjaan Speakman signifying a new era on Wearside. Unfortunately, at the time of Johnson's appointment, our squad were hit hard by Covid resulting in a lot of our games being postponed and moved around. In my opinion, this had a massive impact on our results leading us to drop to 11th in the League table. However, we reached form in mid-February and our performances didn't just show the positive impact Johnson had but the togetherness of the entire squad, leading us to soar into a comfortable play-off position with the help of our top goal scorer Charlie Wyke and quality of Aiden McGeady. In and around this time, we also won the Papa John's Trophy against Tranmere. If I'm being honest, the better side probably lost that day but nonetheless it was a great moment after a terrible year regarding Covid and lifted the entire city even if it was the pizza trophy!
Towards the end of the season, our form tailed off and we ended up facing Lincoln City in the Play-Off Semi Final. Our supporters knew Lincoln would be looking for revenge. Lincoln did end up progressing to the play off final but the highlight of last season for me was being able to go and see a game in person. Even with only 10,000 fans The Stadium Of Light was rocking. However, same story again for us last season. So close but just not enough.
Looking forward, what are your expectations and hopes for this season?
I can't say I was too optimistic about the season ahead just by our transfer window alone. A lot of players were released or left on their own accord in the off season, and we started our first league game without a full back. However, after seeing us play the opening game of the season against Wigan I have to say that my confidence has been restored. Lynden Gooch played really well, maybe unlucky for you MK fans considering he scored an absolute screamer at your place last season! Although we did lose top goal scorer Charlie Wyke, Ross Stewart looks to be overfilling his boots and hopefully he can be very prolific and consistent for us this season. He's a huge aerial threat but can also hold his own when the ball is plated on the deck. In my opinion, he can do everything Charlie Wyke can do and more. 17-year-old Callum Doyle, who is on loan from Manchester City, has also made a massive impression with Sunderland fans looking like an experienced pro on the pitch at such a young age. He's so calm and collected and plays with real class on the pitch which is very impressive for a young player. He reminds me a lot of Dion Sanderson last season. If we can get a good streak going and hit form at the right times, I really think we can push for automatic promotion this season however I wouldn't count us out finishing in play off places either. Our track record with winning crucial games isn't too pretty. The competition in the league this season is tough but if we take everything game by game and don't get too ahead of ourselves hopefully, we can have a good shot at automatic promotion this season.
Are they any players "breaking through" from your system who could be the next big players for your club?
We're getting more and more players breaking through from our youth academy which is great to see. We had 4 academy graduates in Dan Neil, Elliot Embelton, Jack Diamond and Lynden Gooch involved in the Wigan game on Saturday and a further 2 on the bench. I think the most promising out of those 4, apart from Lynden Gooch who has already cemented himself in the squad, is probably Elliot Embelton. Last season, he was loaned out to Play Off winners Blackpool and played a total of 21 games. In the past, he has had an unfortunate time with injury which is why I think he hasn't had a decent run in the first team sooner. Hopefully, he can stay fit and make a real impact this season allowing himself to be a regular first team starter. He can play those dangerous through balls to strikers' feet which is something I feel like we've been lacking for years.
I hope that maybe Embelton and Grigg could have a good partnership this season if Grigg gets the game time under his belt. I believe Embelton could give Grigg the service he needs rather than hoof balls into the box which we've been repeatedly offering Grigg for the past couple of seasons. Diamond and Neil offer pace, energy and creativity to the team although Diamond is often prone to running into players but with a bit more experience, I hope he can iron the creases out of this part of his game. A player you may not have heard of but is looking very promising for us is Josh Hawkes. Playing in Premier League 2 last season, he managed to get 13 goals and 6 assists from 20 starts. He's yet to start a League game for us but could be a force to be reckoned with if he takes his opportunity when it comes.
How have your season ticket sales gone?
Our season ticket campaign this season has been very successful with 21,000 fans getting a season ticket I believe. However, the club did handle the posting of season tickets poorly with lots of supporters not getting their new tickets before the opening game of the season. I had to queue for over an hour to get a replacement ticket outside the ticket office. Although it was annoying, it was so cool to see the number of fans who have stayed loyal to the club considering we're in our 4th season in League One. It's mental.
Which MK Dons player stands out to you and why?
Mo Eisa is probably the player that stands out the most for me. Obviously, he played well for Peterborough particularly in the 19-20 season scoring 14 goals. I think he's a great addition to your squad. Arguably, he underperformed last season, so he'll be looking to prove a point and add to his goal scoring record at MK. I hope he has a good season at MK, just not against us! You've also got Ex-Sunderland player Ethan Robson on loan from Blackpool. He literally grew up about 5 minutes from where I live. Unfortunately, it didn't really work out for him at Sunderland since he was put out on loan a lot and only really made any first team appearances in our dire Championship season when our fate of relegation was already sealed. But like any local lad, I hope he does well for himself.
What style of play can we expect to see from your team?
Lee Johnson has described his style of play in the past as "not like football, but like ice hockey." He likes to move the ball quickly and keep it on the ground as much as possible. He talks about implementing a high pressing style of play quite frequently at a high tempo. Johnson uses very specific terminology to communicate to the players his style of football. For example, the acronym "POMO" stands for Post Of Maximal Opportunity. We like to get balls into the box from the wings and utilise the wing back position as much as possible. Having someone at the back post allows us to have a good chance of nicking a goal whether that be a header (for example Charlie Wyke did a lot of this) or a rebound from a keeper. Below is a presentation from Lee Johnson how he describes our style of play and identifies the zones on the pitch when communicating with players. (Good Luck understanding it).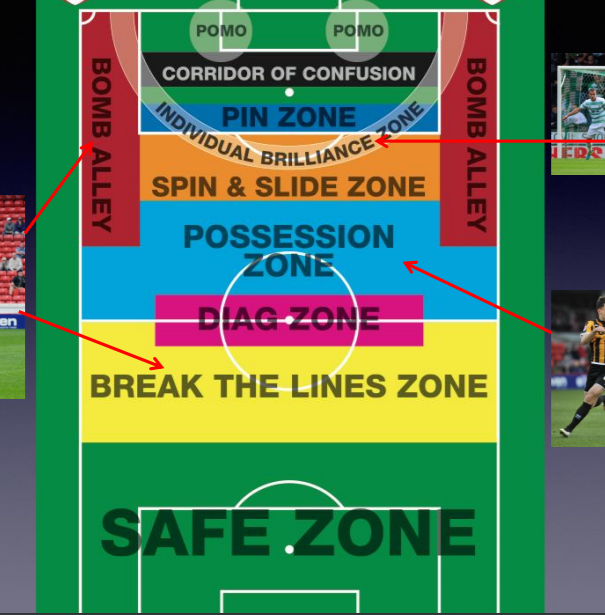 Formation wise, Lee Johnson changes shape quite frequently. We've been known to play a 4-2-3-1, 4-4-2 or 4-2-2-2.
Who are your tips for the league title, promotion, and relegation?
I reckon Ipswich Town have a good shout for winning the league. Paul Cook has really shown a statement of intent by signing so many new players such as Joe Piggott and Scott Fraser who is obviously from yourselves. Hopefully, we will make the cut and finally get promoted back to the Championship alongside Wigan who I think could do well in the playoffs if they manage to gel together well.
I'm going to have to go for AFC Wimbledon, Morecambe, Cambridge and Cheltenham for relegation.
Can you give us your match prediction?
I think we'll win 3-1 with Stewart, Neil and McGeady to score. Good luck to both teams and Ha'way The Lads!