As far as I know this is the first time we have had a lady Trash Talker so many thanks to 26 year old Caz May for taking the time out to answer a few questions for us. Some very honest answers, in what is a difficult time for Gas fans. Good luck with that fight to avoid relegation, but whatever happens stay safe, comeback in August and enjoy your football.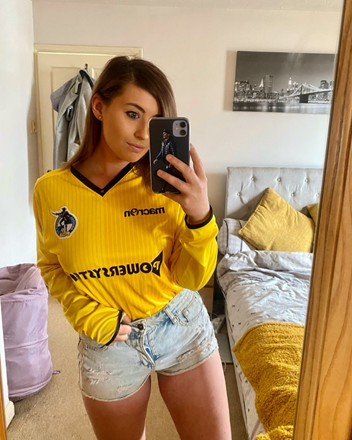 We are now at the business end of the season; how do you assess how your season has gone so far and what are your hope's for the run in?
We've had an atrocious season. We had a seriously promising transfer window in the summer, but we made too many changes in hindsight. They haven't clicked at all. Also – the squad ultimately is unbalanced with our main problem being the lack of strikers we have. We've only had 3 (mostly inexperienced) strikers all season, so of course we can't score goals!
Where do you think your club will finish up in the league this season?
If we don't go down this year it'll be a miracle. I'd be surprised if we don't finish rock bottom.
What has been your best result this season, and of course your worst?
Our best result was a 4-1 win over Accrington Stanley. Our worst result was losing 6-1 to Accrington Stanley. Work that one out!
Has your club talked about season tickets for the 21/22 season? How are they navigating the possibility of no crowds or reduced capacity?
No. We are usually quite slow with things like this. I think they will prioritise reduced capacity depending on which fans were first to purchase a ST at the beginning of the 20/21 season. That was the talk around Christmas, anyway.
Which opposition team that you have played has impressed you the most this season?
It'll have to be Hull City. They are a solid and organised side. They beat us home and away. George Honeyman stood out for me. I'd be surprised if they didn't go up this year one way or another.
Which player has stood out for your team this season, and which player has come through the ranks and looks a real prospect?
Luke McCormick who is on loan from Chelsea. With Sam Nicholson being injured (another standout player) – he is stepping up to the plate. He's a young lad who I predict will play near the top level. When he's having a good day, he is capable of ripping teams to shreds. He's scored a few goals for us, too.
Pablo Martinez and Zain Walker are two young'uns who have been playing the full 90 lately due to first team injuries. Both are from our development squad and they don't look out of place in the first team. They've been very impressive considering they have a lot of pressure on them.
Are you happy with the business you conducted in January transfer window? Who did you recruit and what are your initial impressions? Or was keeping certain players more key?
No. Whilst we were desperate for a striker in January – Paul Tisdale decided to bring in George Williams (RB) and Joe Day (GK). Both signings are OK but it's honestly no wonder why we are where we are. The recruitment has been shocking. We should have signed a striker and it's fair to say we are missing Jonson Clarke-Harris. We haven't replaced him since he signed for Posh at the start of the season.
Which MK Dons player stands out to you as a game changer in our clash?
A player who I remember from the previous clash was Scott Fraser. He seems dangerous and if I remember rightly – he scored against us too? To be honest – we are just so bad that literally anyone else in this league is a threat.
What style of play can we expect to see from your team?
Don't expect any goals from us. If you get a set piece you are laughing because we have conceded an embarrassing number of goals from set pieces this season. Expect to see quite a lot of high-tempo passing play – which looks good until you realise that we have no end product. Just enjoy the three points.
Have you ever been to Stadium MK, if so, what's your opinion on it?
Yes – I've been a few times. It's a really nice stadium. I'll be honest and say the best feature is the row of restaurants directly opposite. It's not often I can enjoy a plate of chicken wings with my pint in TGI Fridays before a game. I also rate the undersoil heating. It meant the game we won 1-0 in 2018 wasn't snowed off. I had a very enjoyable day – so thanks for that.
Where do you think the MK Dons will finish in the league table?
I've been avoiding looking at the table lately (no prizes for guessing why) but I would say you'll comfortably finish mid-table. I'm going to say 15th.
From what you have seen, who are your tips for the league title, promotion, and relegation?
Title = Peterborough
Promoted = Sunderland & Hull
Relegation = Bristol Rovers (weep), Rochdale, Northampton, Swindon
Can you give us your match prediction?
Bristol Rovers 0-1 MK Dons