This is a first for us a father and son duo Keith (45) and Max Laird (15)  answering the questions this week for our home game against Accrington Stanley. Stanley have shocked many people, including pundits on the quality of their season so far, and judging by the comments they have shocked their own fans as well. We wish them and all the Accrington Stanley fans all best for the remainder of the season, and good luck with your playoff push.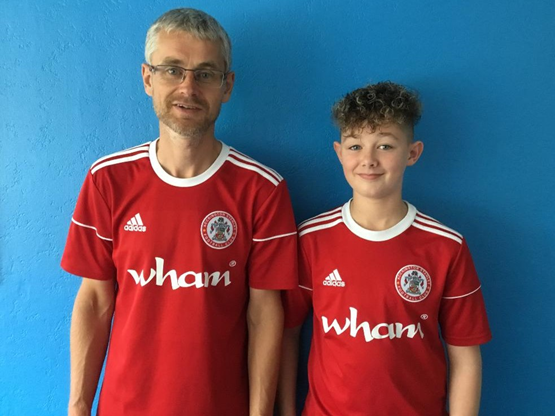 We are now well into the season, has it gone about how you thought it would for your club this season so far?
 It's gone a lot better than we expected. Really with our player budget we should be in the relegation battle, so to be in the top half of the table is above our expectations. 
Where do you think your club will finish up in the league this season?
We're thinking top half, possibly 10th. 
What has been your best result this season, and of course your worst?
We have had a few great results this season, but our opening day league win against Peterborough just shades it. They are one of the best teams in this league and we showed everyone we can compete and beat the best in this league. As for the worst, our home defeat against Gillingham. They stopped us playing that day and we couldn't break them down. 
Do you think your club has acted well towards the fans in terms of compensation, offers and discounts for season ticket holders?
Yes, no doubt about that. We have been offered cash refunds, which we rejected as we felt it is important to support our club in these difficult financial times. Our owner Andy Holt has been brilliant with the Stanley fans since he took control of the club. 
Which opposition team that you have played has impressed you the most this season?
Oxford United are always good. After a slow start to the season, we're sure they will at least make the playoffs again this season. 
Which player has stood out for your team this season, and which player has come through the ranks and looks a real prospect?
This is a really difficult one as there are so many influential players in our side. We'll go for Dion Charles as he has found his shooting boots this season. Toby Savin is one to look out for from our academy. He will be a top keeper in the future. 
Which MK Dons player stands out to you as a game changer in our clash?
We think Scott Fraser is good, he's creative and can find the back of the net. 
What style of play can we expect to see from your team?
We'll get the ball down and play on the floor. We can also go long when need to be to use our height and pace. Your defenders will have a tough match. 
Have you ever been to Stadium MK, if so, what's your opinion on it?
Unfortunately we haven't managed a trip to Milton Keynes yet. It is on the list though. 
Where do you think the MK Dons will finish in the league table?
We are thinking definitely mid table, 13th, or 14th. 
From what you have seen, who are your tips for the league title, promotion, and relegation?
We are going for Hull to win the title and Doncaster and Portsmouth to get promotion. Relegation will be a close call and it will probably go to the last day. We'll say that Northampton, Swindon, Wigan, and Bristol Rovers will all face the drop. 
Can you give us your match prediction?
Keith: 1-0 win for Stanley Max: 3-1 win for Stanley