Many thanks to 38 year old Matt for providing us with the answers to our questions ahead of our fixture with Gillingham on Tuesday night that kicks off at 6pm. I don't know why but we never got round to asking him why Gillingham always kick off early, and I mention it just about every week….perhaps we can ask him next season, or if you know, can you let me know, then I can stop asking.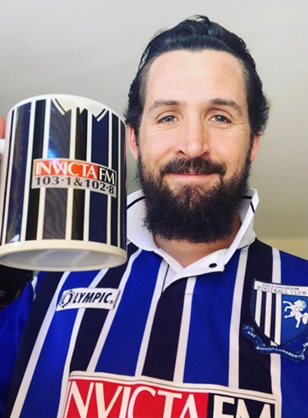 We are now at the business end of the season; how do you assess how your season has gone so far and what are your hopes for the run in?
We have been consistently inconsistent and that is reflected in the fact that we are floating around mid-table with no real danger of going down but a push for the Play-Offs looking highly unlikely.
Where do you think your club will finish up in the league this season?
I said 8th at the start of the season and if we could find some consistency, we could still achieve that, but its currently a big if. Realistically if we could sneak into the top half or top ten again I would be happy enough.
What has been your best result this season, and of course your worst?
For me, the standout performances have been Rochdale away (4-1) Crewe at home (4-1), and Charlton away (3-2), and in terms of shockers I would plump for Cambridge away (0-2), Doncaster away (1-2), Northampton away (1-3), and Burton at home (0-1).
Has your club talked about season tickets for the 21/22 season? How are they navigating the possibility of no crowds or reduced capacity?
I have not seen anything on any of the club's social media platforms so far, and I am sure we have not yet heard anything concrete regarding the games from the end of the 2019-20 campaign. Don't get me wrong I won't ask for a refund, but some better communication would be appreciated.
Which opposition team that you have played has impressed you the most this season?
Two stand out for me. Lincoln are probably the most rounded outfit I have watched in terms of an eleven, but Peterborough's ceiling in terms of how good they can be is comfortably the highest in the division in my opinion.
Which player has stood out for your team this season, and which player has come through the ranks and looks a real prospect?
Jordan Graham at the start of the season, but over more recent months the skipper Kyle Dempsey has consistently turned in good performance after good performance as well as chipping in with goals and assists. In terms of a player coming through the ranks the obvious one is still Jack Tucker who is – despite an inconsistent season compared to 19/20 – very highly rated.
Are you happy with the business you conducted in the January transfer window? Who did you recruit and what are your initial impressions? Or was keeping certain players more key?
Very happy, the rejig of the loan players has certainly made us stronger and it is a shame that Callum Slattery now misses a month through injury. Keeping the likes of Graham, Dempsey and Ogilvie was also very important.
Which MK Dons player stands out to you as a game changer in our clash?
I think Scott Fraser was a big signing for you with all the talk of him seemingly attracting Championship interest, and on top of that Cameron Jerome has done a lot better than I envisaged. It will be interesting to see how he and Will Grigg potentially work together.
What style of play can we expect to see from your team?
We will predominantly be direct and look to find our front men early and then get players running in beyond them to get on the end of flick on's, but with the likes of Graham, Dempsey, and Olly Lee in our ranks we can also get it down and play.
Have you ever been to Stadium MK, if so, what's your opinion on it?
Not yet for a game but was there for a work conference a few years back. It is a nice modern ground with fantastic facilities, my only issue though is that all new grounds tend to be pretty much a clone of each other.
Where do you think the MK Dons will finish in the league table?
I think somewhere around where you are with the possibility of creeping into the top half or top ten. Russel Martin has done a very good job and certainly has you playing an attractive brand of football so you will certainly be fine in terms of staying safe.
From what you have seen, who are your tips for the league title, promotion, and relegation?
I backed Peterborough to win the league back in the summer so I will stick to my guns with them. After that anyone of a handful of teams could join them but based on how well they played against us I will go with Lincoln. The relegation battle looks fascinating too with seven teams currently in real danger and despite plumping for Rochdale, Northampton, and Wimbledon at the start of the campaign I would not nail my hat to anyone of those at the moment.
Can you give us your match prediction?
I am predicting this prior to our weekend game against Portsmouth which makes it a little trickier but based on our results against those teams in the middle section of the table I will go for a narrow 2-1 win for the Gills.