Another Trash Talk for your delight, this one dropped into the MKDSA inbox unnoticed and nearly never made publication, but we hate to let people down that have made the effort to send us a completed article, so we say many thanks to Chris Anthony aged 26 who is a massive Shrews fan, I'm glad we can get your superb article on the website. We have to say though Chris, you let yourself down right at the end, just when you were doing so well.
Stay safe Chris, and send our best wishes to your Gaffer, we hope he makes a full recovery.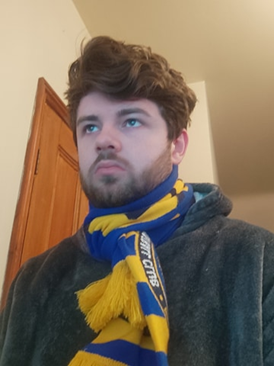 Can you tell us a little-known fact about your club?
Shrewsbury Town is the most successful club to compete in one of the oldest cup competitions in the world: The Shropshire Senior Cup founded in 1877 has been hotly contested by the county's two leading sides, The Shrews of course, with a record 67 victories and Telford United/AFC.
We have spoken to fans from many clubs this season regarding how clubs have compensated those that have purchased season tickets this year and last, how has your club compensated fans?
Season ticket holders can watch a video stream online using iFollow which provides them with codes for each game at no extra charge. In terms of last season, the club offered refunds on cancelled home games. 95% of fans chose not to take up the option and instead donated their monies, earning them a place on a new Wall of Fame outside the stadium. 
How has the season gone for you so far, as expected, better, or a bit underwhelming?
Sam Ricketts tried to move away from the very defensive football that had become the norm under his stewardship. Changing to a 4-3-3 system from his favoured 5-3-2 was welcomed by most but did not render the improvement going forward we hoped for. Results in the league were poor. Confidence was ground down and silly individual mistakes were rife. Despite believing we didn't actually have a bad squad, Town found themselves occupying the relegation zone throughout the early season. Sam Ricketts was sacked after we limply gave up a 2-0 lead against MK back in November. It was time for him to go.
It wasn't too long before the club announced the experienced Steve Cotterill would be taking charge putting to bed rumours of a return for the controversial former manager Paul Hurst who almost got town into the Championship back in 2017/18, only to immediately jump ship in dubious circumstances to take up the vacant managerial role at Ipswich. As Mick McCarthy said, that went well. Steve Cotterill came in like a great ball of energy. A lively, charismatic football fanatic, the run of form Town has put together since his arrival has been nothing short of sensational. He's made officially the strongest start to a managerial reign at the club ever beating the likes of Hull, Lincoln, Peterborough, and Doncaster to name a few, all without conceding a single goal! At the time of writing the gaffer has returned home after a long stay in hospital battling Covid-19. His deputy Aaron Wilbraham and his assistant David Longwell have done a sterling job in the gaffer's physical absence with results remaining steady including an excellent 2-1 (should have been 3-0 cheers ref) vs Sunderland. Town fans are quietly optimistic for the future with things looking on the up.      
What has been the best result and the worst so far this season?
9th February 2021 – many to choose from of late but I'll say Shrews 2 – 1 Sunderland (Despite the best attempts by the officials to gift Sunderland a share of the points Town battled hard to take all 3 sending YouTuber Sunderland fans into a wonderful rage!)
31st October – Peterborough 5 – 1 Shrews (The signs of the end for Sam Ricketts were on full display here as town simply gave up once a couple of borough goals had gone in).
Who has been your best player so far this season, and perhaps another player we should keep an eye on?
Best player – Harry Chapman has come in on loan from Blackburn and been unreal. Playing in the hole as a number 10 or on the wings, this guy is far too good for League One football and is tearing team's apart week in week out. Several fantastic goals in just a handful of games since arriving only just over a month ago.
One to watch – Curtis Main recently signed from Aberdeen. Proper old fashioned centre forward unit who brings those around him into play and isn't afraid to put his body in where it hurts win the ball. Don't expect he will score many, but he could be a very useful part of the team going forward with his assists. Reminds me of Kevin Davies at Bolton in days gone by.
Where do you see your club in the league table at the end of the season?
I think we'll climb the table, realistically I'm going to predict 10th-12th, somewhere like that. But fans are very quietly eyeing a dark horse run at the playoffs! Stranger things have happened, there's always a team that comes out of nowhere.
Have you ever been to Stadium MK, if so, what was your impression of it?
I haven't been to Stadium MK, but it looks like a solid, modern stadium with a decent pitch. Should serve you well going forward.
What player do you fear the most in the MK Dons team?
I was going to say Carlton Morris. Was part of our electric 2017/18 promotion attempt, he is a great target-man bringing others into play. Will get a few goals as well. Nightmare for CBs I would imagine. Scored against us last year. But he's gone I see!
So, I'll say now it's got to be Will Grigg, partly because we were tipped to be signing him before he went to MK so there's a bit of needle now. I'm happy with Curtis Main though! More the type of player we needed anyway! 
Who is your tip for promotion and relegation?
Promotion: Hull and Lincoln auto, Shrewsbury will sneak into the playoffs and beat Doncaster in the final 1-0!
Relegation: Burton Albion, Wigan, Northampton… sorry but I think AFC will do enough to stay up.