Many Thanks today to Kelly Hawkins who took us up on our challenge to tell us all about her journey with the MK Dons. We are for the time being still taking these articled so if you want to tell us your story please contact us by sending an email to mediamkdsa@yahoo.com and we will get right back to you with the questions.
Until next time over to Kelly to tell us her story.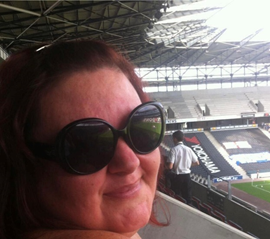 Tell us a little bit about how you became a Dons fan and what was your first game?
We went along to a game with my brother, his kid, and my son at the NHS – It was the Dons v Spurs in the Cup…we lost 5-0 (I think) Should've known then to give up watching but carried on anyway. Had season tickets from that day on.
What were your expectations for us pre-season, and have you changed your mind on what you have seen so far?
Wasn't expecting much from us to be honest, especially after last season and losing lots of players. My expectations were spot on until recently and now are looking strong.
Which Dons player, or players have really impressed you so far this season?
Scott Fraser for definite, and Cameron Jerome has been a great addition too.
Best and worst performances so far this season?
Peterborough at Stadium MK was a great game, more so because we could actually be there to watch it in person. The Sunderland game was a great watch too.
Worst performance definitely the Crewe game which we lost 2-0
What is your favourite Dons moment or moments?
The obvious moments: the Johnstone Paint Trophy win, Heel of God, Promotion etc, but the best memory I have is the JPT Semi-Final 2nd leg. Drewe Broughton stepping up to take the Penalty to send us to Wembley. I was convinced he'd miss as wasn't a great fan of him (Sorry Drewe) but when he scored and sent us through the atmosphere was brilliant so always sticks in my mind.
Who is your all-time favourite player and why?
Peter Leven – great Midfielder – love the way he played.
Who is the best striker to have ever pulled the Dons shirt on, and why?
Sam Baldock.
Who is a good tip for promotion and relegation in League 1?
Promotion: Lincoln and Peterborough.
Relegation: Burton and Bristol Rovers.
Fisher or Nicholls?
Fisher for me.
Home games, or away games?
Home games now – away games before having more kids.
All fans love a good awayday, are there any grounds you look forward to visiting again, or perhaps one on your bucket list?
I would love to go to Stadium of Light. One ground I hate is Swindon.
Where do you think MK Dons will finish up this season?
12th.
White shirt, red shirt, or black shirt?
Black
Your preferred matchday grub?
Balti Pie.
Any other comments?
COYDS