We are very pleased with the reaction to some of the interviews we have conducted recently, and we have had some crackers, with Russ, Luke Chadwick, Dean Bowditch, Izale McLeod and Red 1, to name a few, apologies for any I have missed out of that list. If you want to us to try and contact former players, and I stress former as there is likely to be contractual reasons why we cannot talk to current players at other clubs, and we don't want to step on the toes of the Dons Media Team, so we are ruling out our current players at the moment. So if there is anyone that you would like us to try and contact please comment on the Facebook page you found this article and we will see what we can do.
Today we speak to "The Voice of the MK Dons" Luke Ashmead, who gives us an insight into the man behind the microphone. He speaks passionately and honestly about how he sees his role and even answers his critics, so we applaud him for that.
It's a real interesting read from a man that has commendably given a lot of his spare time into promoting this club, hosting Player of the Year Awards, Fans Forums and much more. We hope you enjoy reading it….and once again many thanks to Luke for taking the time out of his busy schedule to talk to us.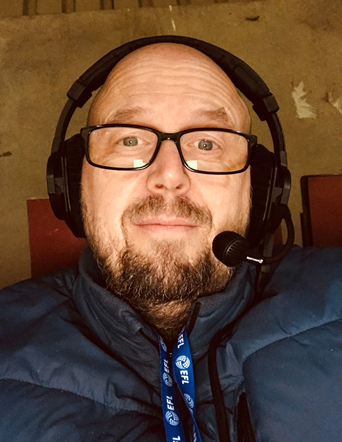 The obvious question first, how did your journey into broadcasting, journalism, sports reporting, and commentary all start, we have a sneaking suspicion you may once have been a DJ in your younger days?
After 3 years in Dubai managing a nightclub and a spell DJing I returned to the UK. My goal was to secure a slightly more stable career. I put myself through Milton Keynes College as a mature student and was using my job as a DJ in CMK to support myself financially.
After I passed the course I wrote a load of letters to radio stations asking for work experience. Three Counties replied and the rest is history. I've presented every show on the station at some point or another but was involved with sport from the off and started covering MK Dons in their first season at the NHS.
Can you recall the first game you ever did a commentary on and how you felt that day, and if not a Dons game, can you recall the first Dons game you covered?
In all honesty I don't remember my first game doing commentary. It kind of evolved for me. I started doing 20 second reports from the MKD games into the Luton commentary and then practiced commentating in the gaps between my reports. I still find the job of commentator my most challenging. Standing on a stage in front of 5,000 people and hosting an event in some ways comes more naturally to me but I put my heart into it and try to be as honest as possible, even when the truth for some fans is hard to hear.
You must have done plenty of post-match interviews in your time covering the Dons, are there any players / managers that you really enjoyed interviewing, and perhaps the occasional one you didn't?
I've had mini run-ins with most managers I've had to interview on a regular basis. It comes with the territory when you sometimes have to ask difficult questions.
I got the feeling Danny Wilson never really liked me. Martin Allen was hard work. I remember asking him why Ben Chorley had been dropped not long after he took over as manager which was a totally valid question as Ben was captain at the time. He finished the interview and then launched into an expletive ridden rant about not asking those sorts of questions. I laughed, nervously, he said sorry at the next game, we moved on.
I fell out with Paul Ince but didn't hold it against him. He was never hugely comfortable with doing the media stuff.
Robbo was honest and I liked him very much. He was respectful of what I had to do and how I did it. He was a good bloke and I still have a lot of time for Robbo.
Robbie Neilson was someone I liked a lot too. It didn't work out for him or the club, but Robbie was straight as they come and never shirked the tough questions.
Paul Tisdale could be the best and worst person to interview. Too often he had very little to say post-match which doesn't work for radio, but it kept me on my toes. Pre-match he would often be charming and friendly but kept his cards very close to his chest.
Russell is a dream. Intelligent, respectful of what we have to do and honest about his team. I like him and think he has a very bright future as a manager.
Plenty of players I've enjoyed talking to. Lewie knows me so well and trusts me, so talking to him is always good. Dean Bowditch, George Baldock, Paul Mitchell, Danny Green, David Martin, Carl Baker, Scott Wootton are just a few of the players through the years that I've enjoyed talking to. The current crop is really good to be honest, Andrew Surman is a natural.
There are plenty of players who I've not enjoyed talking. Some who just aren't cut out for talking to the media and others who were simply wrapped up in their own self-importance.  Those names will stay with me.
We understand your first love in football is not the MK Dons, but another team, can you tell us about that, and how you started your journey with that chosen team?
Born in Winchester with an older brother who supported Saints it was inevitable I would follow suit. I moved to Bedfordshire when I was still in short trousers but never stopped supporting Southampton. Living in Bedford in my younger years I spent a bit of time watching Luton (The plastic pitch years were fun) I also spent as much time as I could going to Saints away games in London and The Midlands. As I got older I could spend more time and make my own way to The Dell and then St Mary's. I love the MK Dons but will always be a Southampton supporter. 
Can you tell us how you prepare for a commentary on a game?
I prepare on Thursday and Friday. Research into opposition is the biggest part of what I do.
Can you give us a brief insight on a typical away day commentary, your journey up to the game, arrival at a ground, how you get ready to broadcast?
I ALWAYS allow at least an hour on top of the time it will take me to get to a ground by 1pm. So if it's a 3 hour journey I want to be on the road by 9am. I pretty much always stop once on the way up. The first thing is getting into the ground, get set up and make sure the technology works. Once I know I can broadcast it's a case of finding out any little bits of information from local journalists about the home team. How do they line up, who is playing well etc. This kind of info is often the best in preparing you for the game. A key thing to do before the match starts…..toilet.
Every fan loves an away day, so, is there any particular ground you always like commentating from, ones you particularly don't like for whatever reason, and any ground on your bucket list that you haven't visited yet?
In truth Grounds are split into 3 types:
1)        10% that have great facilities for the press, good press box view and organised media department who make life easy for you. Great food.
2)        75% Good facilities for the press, Press box ok with room for notes and media department working well with limited resources.
3)        15% Poor facilities for the press including rubbish Wi-Fi. Disorganised staff and terrible press box with limited view.
I've been to all of the above. The great ones are not all in the Premier League I can assure you.
Sunderland, Tottenham (new), Brentford (new), AFC (new), Salford, Harrogate are the only grounds in all four Leagues I've not been to.
You have commentated on many games for the MK Dons, in that time do you have a particular favourite Dons player?
You can't look much further than Dele when you're talking about players you've enjoyed watching. He was a special talent from early on.
I don't think any of us can overstate the career Dean Lewington has had. He is a legend. A proper legend.
Do you have a particular game that stands out for you as a memorable moment in Dons short but colourful history that you covered?
MKD 2-1 Tranmere. That Gareth Edds goal.
Peterborough 0-4 MKD in 2017 So good to beat them at London Road in such style. I will never forget being treated like dirt when I covered my first MK Dons game at Peterborough. The anti MKD feeling was one of the strongest in the early day which helped fuel the rivalry.
The win at QPR and the home win against AFC in the first meeting.
The two that really stand out for me are the 4-0 win over Man Utd and the final day win over Yeovil to secure a place in the Championship.
The Man Utd win was surreal but thoroughly deserved. That final day promotion to the Championship was a real favourite for me. I was in amongst the fans at the end and the scenes were so memorable.
The day the Dons got promoted to the Championship, you did a roving report on the pitch amongst the jubilant Dons fans after the game, how was that, and was it planned or just off the cuff reporting?
Like I said in my previous answer that final day win over Yeovil and promotion to the Championship was special. Very little about that day was planned. I had made sure that on the off chance we got promoted I had a radio mic so I could get down to the pitch. No script just raw emotion and a huge desire to paint the pictures for those who couldn't be there.
We are not sure if you have ever commentated from Kingsmeadow, but if you have, can you tell us what sort of an experience that was for you?
I have indeed. The press box isn't great and in truth I found it a bit of an anti-climax. It was always hard trying to do your job at a non-league ground. Shouldn't be too harsh I suppose. It wasn't actually their ground after all 😉
You have come in for a bit of criticism lately for your references to a particular semi-aquatic mammal, and your penchant for a Black Lace hit from 1984, how do you respond to that?
I am not the run of the mill commentator. I'm not always driven by stats and facts and do often let my slightly wacky personality take over.
This next bit is taken from a post I made on TCR (The Concrete Roundabout).
When I used to do away games it often felt like a little club of us all having our say on the game and I just wanted everyone to have a good match day experience from a commentator who loved the club as much as them. I've listened back to several of the games I've been criticised for. The majority of the broadcast is football commentary. The daft stuff was simply meant to put a smile on the odd face when the game was dire.
Did I at times try and offer a slightly different style of commentary? Yes I did. I wanted the fans to feel I was part of it and not just another commentator doing his job. Honesty in my life as well as a broadcaster has been so important to me. I say it how it is. This I accept will mean that I pick up my fair share of haters.  I understand that.  I'm confident though that those who have met me, know me, and understand where I'm coming from as a broadcaster and person warm to me as both. Accusations of me being Self-important or arrogant could not be further from the truth.
I have taken on board some of the constructive criticism despite many people enjoying some of the off-beat stuff. I appreciate that it's important for the football commentary to be the primary focus. I felt it always was but perhaps I got it wrong on occasions.
I've been associated with MK Dons and reported on the club since the very beginning. They are my local club and even though, like many MKD fans, I had a club before 2004, I wanted the team in the place I was proud to live doing well. I love MK. In the early days I felt like the only journalist in the country who had a good word to say about the club.
I've given countless hours of my own time to help both the club, MKDSA and supporters independently and always felt closeness to MKD more than any of the other clubs I cover.
So to those of you who still don't like me, my commentary, my style that's ok, it really is. Just remember though that when you hear my voice doing an MKD game, it's the voice from a supporter of the club.
We understand your role has changed recently at 3CR to a more studio based job, do you prefer that, or do you miss commentating?
Presenting does come more naturally to me and in these uncertain times the decision was taken that I anchor the studio operation and present from Dunstable on Saturday afternoons. I am able to use my experience of all the clubs we cover to tie everything together and make the programmes slick and entertaining. I do miss Saturday Commentary but I'm very happy in my new role. I still get to do the midweek games, so I have the best of both worlds.
Anything else you want to add?
Russell Martin will take this club to the Championship given time, funds, and a bit of luck. The squad is getting stronger and deeper all the time. Have faith and lots of optimism for the future.
Finally, be good to each other. Touch base with friends, family, and colleagues who you haven't heard from for a while. People are struggling mentally at the moment and I know this only too well. I've had mental health struggles for more years than I can remember and what always got me through was the love, kindness, and care of other people. This is important now more than ever. Stay safe and COYD's.