We haven't had one of these for a few weeks, so we were delighted to see this one drop into our inbox from the United States, so many thanks to Nik Aleksander for taking part. We have to say Baltimore looks a beautiful place and we are not really sure how you can miss the "Smell of Bletchley" when you have this to wake up to every morning.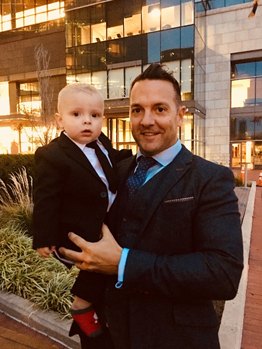 NAME – Nik Aleksander
AGE – 44
LOCATION – Baltimore, Maryland
PREVIOUS UK LOCATION – Milton Keynes
Can you tell us how you first became a Dons fan, and can you recall your first ever game watching the Dons?
As soon as I heard they were moving to MK I started following them and was a season ticket holder for as long as I lived in MK?
Can you remember your last game following the Dons?
Was probably the home game against AFC Kingston in 2019.
How do you keep up with all the latest Dons news?
Most days I check into one site or another just to keep up to date with what is going on,
We imagine it's difficult to watch games given the time difference, how do you manage, for day and night games?
10am on Saturdays and 2-3pm on weekdays, working from home makes it easy to watch the games.
Do you have any plans to return to SMK this year or in the near future? 
Hopefully, we went back 3 times in 2019.
Which Dons player has impressed you the most this season?
Kasumu, started out getting booked every game, but before he got injured, he reminded me of a certain Dele Alli.
What's your opinion on Russell Martin and the style of play he has introduced?
The passing game is great to watch, but wasn't working too well, however it's a nice habit to have as we have adapted our game style as the season went on. We still need to be ruthless in the final third though.
Who is a good tip for League 1 promotion and relegation, and where do you think the Dons will finish up this season?
It's never good to see a former Championship team in the bottom four, let alone two. However, Northampton, Swindon and AFC going down would be bittersweet. Also make a note my spellcheck doesn't recognise 'Swindon'.
Did you ever take in an away game following the Dons, if so, which is your favourite ground visited?
Wembley was the best away ground LOL
White shirt, red shirt, or black shirt?
Not keen on the red, the old Nike kits with Marshall on were the envy of the leagues.
Home or away games?
Home, I love the smell of Bletchley.
Since you have moved, have you been to watch a game in your adopted country?
US Soccer is like League 1 football standards, its slowly getting better, but English football is probably the most watched sport here (it seems), their almost more fanatical than us, it was a big eye opener. I get to watch the Dons on ESPN+ sometimes too…quite bizarre.
Can you tell us how Covid 19 has impacted on football in your adopted country?
Obviously there has been an impact, the fans need to get back into the grounds, so clubs don't go bust. I don't know how they are coping quite honestly, but the latest buying spree from the Dons, blows some fresh winds through the club, to the point where we may squeak the play-offs, some excellent signings.
Any other comments?
Just a BIG THANKS to all those who make it a religion out of a pastime and work tirelessly to promote the Dons and be the glue for the fans.