To continue our theme of talking to the familiar faces around Stadium MK we thought we would go off at a different angle and talk to one of the most well-known and popular faces at SMK, and someone you probably always talk to but don't know his name. He is also a familiar face at away games, so next time you seem him you will be able to say hello to Robin Edmonds, aka RED 1.

Were grateful to Robin who has given us a different perspective on matchdays and given us an insight what it takes to be a steward.
Again, another entertaining read, so many thanks to Robin for taking part.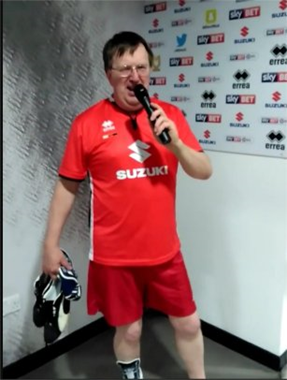 We understand you are one of our matchday stewards, and also part of the travelling stewards' team, is there anything you can tell us about your role and routine on matchdays, home and away, without giving us any sensitive information?

It's no secret that the club has long been keen to maintain a hands-off policy when dealing with home fans, we're building a following and the last thing you want to do is alienate your 'customer' base. But it's important to make sure that everyone is safe, and Covid has accentuated that.
At home games the routine is check the stadium to make sure that nothing is faulty/broken/dangerous, get the fans in as quickly & safely as possible, make sure everyone enjoys the game, get the stadium cleared as quickly & safely as possible, check the stadium for anything faulty/broken/dangerous, shut it down.
One question frequently asked (usually by my wife) is "the game starts at 3 and finishes before 5, why do you have to be there so early, and come home so late?". The answer is detailed above.
When I was working as the tunnel officer, the day started early so that we could get the checks done before the away team & kit men roll up. After the match, we can't leave until both teams have left, plus any media commitments have been completed. 10:30am through to 8pm has been required on occasion.
Away games mean earlier starts & later finishes, the rules for us are similar as to stewarding home games, except that we are supposed to deliver the fans to the away games, then be there to assist the 'home' stewards. Anyone doing away games knows that this normally involves slightly more intervention on our part than should be strictly necessary (diplomatic hat on).
I think most people realise being a steward is sometimes not the easiest of tasks, but do you have any interesting or amusing stories you can share with us?
To an extent, it's about developing a rapport with the fans. It's easier to call someone a twonk (if they're being a twonk) if it's not the first time that you have spoken (this works both ways). I've always been keen on being visible & approachable, some are less so. That's human nature.
Take this story as humorous, there is one fan who shall remain nameless (but you know who you are) who delights in informing people that I have been telling him to sit down since he was a very young boy. It's been almost 20 years since the first games, we've seen boys grow through to men. I've seen less of some of my kids!
My most fun bit takes place when I was in charge of the blue stand, when we had just started the walks to ask people to sit down after some problems in the Cowshed. I controlled when "The Walk" was done, and if it had to be paused for a period of play. During a game against Charlton, the action became end-to-end, I had to hold the stewards walking up when they had already got the front half of the stand seated. It looked like we weren't going to be able to finish the walk properly, so I raised both my hands to tell the stewards to go to the top of the stand. Unfortunately, the Cowshed people all stood up as if in response to my signal. My radio earpiece lifted from my ear with the 'feedback' from the control room, to whom it looked like I had instructed the crowd to stand up. As the council were in to monitor the crowd standing, this did not go down well. (I later explained that it showed the ability of the fans to obey our commands. Still didn't go down very well.) There are many stories that only get told at Xmas over a few beers.

Tell us a little bit about how you became a Dons fan and what was your first game?

Firstly, I work for the Dons, I am a Millwall & Charlton fan, as they were my boyhood teams. That said, I always look for the Dons results first, they kind of grow on you. I'm quite good at remaining neutral whilst working. My first Dons game was the first one at the Hockey Stadium, when Wimbledon moved up here and Pete's great dream began. Until a couple of years ago I hadn't missed a home game (not counting pre-season) & had done quite a few away games. Including reserve games (if you remember them). I've been lucky enough to be selected to work some of the behind closed doors games, but haven't seen much of the football, as the job still has to be done.

What were your expectations for us pre-season, and have you changed your mind on what you have seen so far?

Pre-season, I would have settled for mid-table obscurity. When it started, it looked like another relegation dogfight. The changes made once injuries were overcome, and we got a few new faces in it made it look like we could finish just outside the promotion spots. Of course, the most important thing is to finish above AFC (not in) W.

Which Dons player, or players have really impressed you so far this season?

Matty Sorinola. He used to spend games like a small yappy dog, chasing the ball around the pitch and making quite a few errors. Once he got the confidence of a run of games you could see the change in him, and you can see why there are a few scouts coming to check his progress, If he carries on developing, he could be the next big money transfer out.


Best and worst performances so far this season?

Obviously, I'm here to work, so don't see much of the home matches. However, the first half against Fleetwood was pretty special. Worst performance was (IMHO) Portsmouth away. It's no good having all the possession if it is just across the back 4 and to the keeper.

What is your favourite Dons moment or moments?

For different reasons: Man United & Hyde. Man United for the out-of-body experience that was deservedly beating a side that contained 6 players that were at the previous World Cup, including the highly-rated goalkeeper. I was in the players tunnel, and disbelief was the feeling as the first goal went in. Surely they would come back and turn us over? At 3-0 I was double-checking the dosage on my medication. When the fourth goal went in the whole stadium seemed to rise. Grigg will always be remembered for the Nipple Of God goal, Reeves' reverse pass to Benik, the matchday announcer dancing in the tunnel, the fourth official double-checking the score with me. So many memories.
Hyde in the FA Cup was the most scared I have ever been (and I watched football during the 70's). If you weren't there, ask someone who was. My coat was covered in beer and spit, possibly other fluids. Watching the recorded coverage later, where the BBC reporter says that he's just been told that the pitch is on fire, and you can see it behind him, was another surreal experience. As a non-league club, you can understand why they weren't prepared for what happened. More tales to be told after a few beers.


Who is your all-time favourite player and why?

With all respect to Dean Lewington & Izale, it's between 3 Bens – Harding, Reeves & Chorley. Not only on their playing abilities, but also I was privileged to be able to deal with them off the pitch as well, all were what used to be called model pros.

Who is the best striker to have ever pulled the Dons shirt on, and why?

Jeez, what a choice. Platt, Baldock, Grigg, Afobe, Bamford to name but few. I would have liked to pick Jamie Mackie, but he did it after leaving us. I'll have to pick Izale, his scoring record cannot be belittled, and he threatened me with unspecified retribution if I didn't. Really, he did.

Who is a good tip for promotion and relegation in League 1?

Before the season I would have gone for Hull, Charlton & Posh to go up, with AFC (not in) W, Northampton & Swindon to hopefully go down.

Fisher or Nicholls?
Fisher at the moment. Lee always looks to have an error in him, he wasn't like that in the past, perhaps it was a comfort thing.
Home games, or away games?
Home games, just the chance to say 'hello' to everyone becomes more important in the current situation.
All fans love a good awayday, are there any grounds you look forward to visiting again, or perhaps one on your bucket list?
I was looking forward to Sunderland, and I'd like to see what a lick of paint has done for Posh's ground.

Where do you think MK Dons will finish up this season?
10th-ish with a following wind.
White shirt, red shirt, or black shirt?
White, Classic & classy.
Your preferred matchday grub?
Pie & a cup of tea.
Any other comments?
You may be surprised that I really enjoy stewarding, even on soaking wet or freezing cold days, I can always find something to make it worthwhile. A lot of that is down to the vast majority of the fans, who make the job a lot easier than it could be. I'd like to mention Digger, Growler, Franco, Radar, the boys in the Library and others in the Cowshed who always made the job easier for me. The stewards aren't all a-holes, as in all walks of life there are a variety of people wearing the coats. Same goes for the fans. If you have a problem with the stewarding, tell someone, we're all numbered so it's relatively easy. If I'm around, tell me. Hopefully, I'll still be working at the Dons after they see this. I must stress that these are my views, not those of the club or its management.