You didn't really think we would let you down did you, of course not, but we have to say a massive thank you to TTT for getting onboard again 20-year-old AFCW fan Laurence Hamilton who is pictured below with his Dad Kingsley on an awayday at Kenilworth Road. Tom tells me he had a long chat with Laurence and came away with the impression that he was a really decent lad. So in the spirit of football we wish Laurence and his Dad all the very best, stay safe and we hope our paths cross one day soon.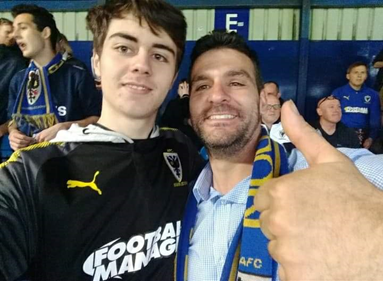 We asked you last time we played about Covid 19 and how it has impacted on AFCW, has anything changed much now we are well into Lockdown 3?
Off the pitch, all seems fine (keyword "seems"). Most of our problems with COVID-19 are to do with the team rather than the club. We had 10 players out for our game against Lincoln, 5 of which were self-isolating. So, it was a bit of a kick in the teeth when the EFL allowed Wigan to postpone our match yet again, but they didn't let us call the Lincoln game off.
Fans from many lower league teams are concerned about how this will impact on their club financially, do you worry that you might have to rely on academy graduates and loans to be able to compete and survive?
In all honesty we've fairly often relied on loan players and youngsters, especially as all our key players seem to be really good at getting injured. I wouldn't say the lack of permanent signings is due to the current situation though, but the fact we don't sell any players until their contract runs out and hence, we don't make anything from them. Maybe things will change when the turnstiles open up again, who knows.
The quality of Joe Pigott has obviously received more than a few admiring glances, and he looks to be the heartbeat of your team. Do you feel that he is vulnerable to a team looking to sign him on in this transfer window or in the summer?
I've long since lost count of all the clubs who have been rumoured to be interested in Pigott, but as I said before he probably won't actually go anywhere until his contract runs out. At the end of the day money talks, and if Swansea or Reading appear on the scene when that time comes, they'll easily beat what we're offering, and we'll get nothing from it. He's a very prominent part of the team spirit though, so maybe his relationship with the other players will keep him around.
What have been your best and worst results of the season so far?
Our results haven't really been great this season, so there's nothing desperately positive to talk about there, other than our win against Peterborough (but we always seem to win that fixture at home, so I wasn't surprised). As for our worst, our humbling at the hands of Charlton was probably the one which stuck out most of all.
It's more than obvious that there is history, for want of a better word, between our fanbases. Some of our young fans have little or no opinion regarding the move, simply because they were just very young or not even born when it happened. As a young AFCW fan yourself do you think the animosity will die a slow death, or will it be more a case of, never forgive, never forget?
It's funny you should say that, as most of the fans I've… "debated" with seem to be younger than me (the one I locked horns with most being the same age as me… and on which note I hope said fan is enjoying his exile from the League One Facebook fan group). What gets me mostly is that those younger fans have the story wrong, and I dare say my understanding of the story isn't perfect either. So, I only think that as time goes on, the Chinese whispers will continue. As for the fanbase as a whole, I believe our issue is your continued use of the Dons suffix. Judging by my interaction with said younger MK fans, I doubt that change will happen.
The Meccano Stadium (Sorry that's our nickname for it) is now finished albeit with temporary stands, you must be looking forward to seeing your first game there live?
Of course I am, but at this point I've gone so long without seeing live football that I'd happily see two garden centre reserve teams face it off. It's almost been an entire year since my last match (excluding one 7th tier friendly) and I'm impatient to get into any ground… except the Stade de ASDA of course (how's that for a nickname?).
Now we are about halfway through the season, how do you see things ending up for AFCW once the season finishes?
Bold of us to assume the season will finish as planned with fixtures dropping like flies. Either way, we'll finish 20th and stay up on goal difference at the expense of Swindon. Leading Swindon fans to blame us for their return to League Two. Nothing quite like tradition. 
You highlighted Joe Pigott as one to look out for the last time we played, is there anyone else in the AFCW team that have stepped up?
At this point, anyone who scores is a star player, until we go on to lose of course. One of our long-term academy projects Jack Rudoni has been proving himself lately, plus there was Csokas first league goal at Charlton… unfortunately though the defence seems to have taken a turn for the worse even with Heneghan arriving, and we don't seem to have anything lined up this January. Maybe we need a change of tactics, but that S-word is a heavy one to be throwing around and Hodges deserves one or two more chances, for now.
What's your opinion on the MK Dons so far this season, and where do you think they will finish in the league table?
It was nice seeing them in the lower 4 while it lasted but, much like us, it seems to be business as usual. Easily mid-table. Nothing more, hopefully less?
Are there any MK Dons players that have caught your eye this season?
Not been paying any attention to names. Other than Fraser who equalised against us, Agard who I remember seeing play for Bristol City when I went to their ground, and that redheaded one who's found himself stuck there, I couldn't name anyone on your team sheet.
Have you ever been to Stadium MK, if so what's your opinion on it?
As a stadium (ignoring literally everything else) it's not too bad. I've always been one for more traditional grounds though. Places like Southend and Luton will always hold more value to me than any bowl ground (although I must admit Brighton's ground sits well with me). As for everything else? I'm sure you've heard all the jokes about the home crowd looking like a game of Guess Who, and the airport sized Asda which probably contains more customers than the stadium. And the one thing that stuck out for me, how much of a nightmare it is to get to for people like me who are forced to use trains. Long story short, average ground, not at all fond of anything else.
You gave us your predictions for promotion and relegation the last time we spoke, do you want to revise your opinions now we are halfway through the season?
I mean I was biting my hand after the Portsmouth comments because they seemed to pull off a comeback just days after that got published. Oxford have also found their feet, and even Shrewsbury are doing half decent. Wigan and Burton seem stuck down there though… and as for the other end of the table, my first prediction stands. But let's just throw Accrington in there, why not?
Match prediction?
1-1 written all over it, but we might get a second goal…?