Many thanks to Don Doyle who is part of the famous Irish Dons group, and its always good to see him and the lads make the huge effort to get across the water and come and see us, for what is an exceptionally long day for them. We are also indebted to Don for giving us a rundown on the itinerary of what it actually entails for them to get across from Dublin to watch a game, a superb effort lads and we look forward to seeing you all sometime soon.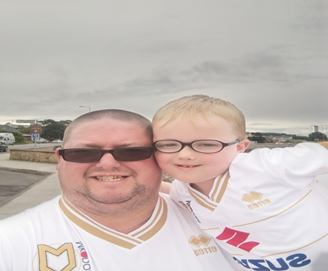 LOCATION – Dublin, Ireland.

Can you tell us how you first became a Dons fan, and can you recall your first ever game watching the Dons?
I have supported the Dons from nine years of age, firstly with Wimbledon and then the move to MK. My first trip across to MK was a 2-1 defeat to Bristol City at the Hockey Stadium, Izale got our goal early on and a Leroy Lita brace did for us either side of halftime.
Can you remember your last game following the Dons?
Last time in Stadium MK was the 2-1 win over AFC, NOT FROM Wimbledon, and I watched the 2-0 over Northampton in the EFL Trophy on IFollow.
How do you keep up with all the latest Dons news?
I keep up to date Twitter, Facebook, the MK website, the MK Citizen, plus, we have our own WhatsApp group of the Irish Dons.
Do you have any plans to return to SMK this year or in the near future?
We were due to come across for the Fleetwood game in April last season but that was binned because of COVID-19, but we will be over as soon as travel restrictions are lifted, and it is safe for us to travel.
Which Dons players have impressed you the most this season?
Jerome and Fraser, Jerome I was worried about because of his age and I was worried was he here for a pay day and he had lost the power and pace he had from the Championship, thankful my words have been eaten. Fraser, I have admired from afar with Burton and he has maintained that with us, a GREAT SIGNING.
What's your opinion on Russell Martin and the style of play he has introduced?
At the start I was worried with playing out from the back, but it has been eased as the season goes on.
Who is a good tip for League 1 promotion and relegation, and where do you think the Dons will finish up this season?
Promotion, Hull, and Portsmouth, and I am shocked with the seasons of Lincoln and Ipswich so far, and the dreaded drop for Rochdale, Plymouth, Cobblers, and AFC, NOT FROM Wimbledon.
Did you ever take in an away game following the Dons, if so, which is your favourite ground visited?
Yes, I have been to two away games, Bristol City and Wigan, two super days out bar the results, 3-2 loss and a 5-1 thrashing. Out of the two it would be the Wigan, one the atmosphere was great even though we were being hammered and the laugh we had in the pub across from the train station, they don't take Irish £50 pound notes and I met Scouse Don in person for the first time.
White shirt, red shirt, or black shirt?
Always loved the away shirts but my favourite is the black shirts.
Home or away games?
Love going to stadium MK, but it's away games with all our fans together and the atmosphere is electric.
Who is your favourite Dons Player?
From my Wimbledon days its Marcus Gayle, power speed, and he could get a goal or two. From MK its Willy Gueret for me the outstanding player of 2008 promotion season and who can forget the penalty save at Wembley and thankfully I was in attendance for it.
Any other comments?
I would like to take you through a day travelling to MK.
Up and out to Dublin airport at 04-30 in the morning to meet Brendan Harford, Mick Dore, Scott Coyle, Alan O'Colbaird, Noel Durham, and Paul Mongey at McDonalds for a 7am flight to Birmingham. From Birmingham we get the 08-20 train to MK Central and up to Weatherspoon's where we meet the MK legend that is Ollie Welch and the lads for breakfast and few pints.
About half 12 to 1pm down to the stadium to say hello to Gayle Sharp who has looked after me and the lads with any enquires we had or have had since day one. After that it's in to see Russ MK our Northern Brother, and Mr Nick Hedges, then up to our seats for what we always hope is an MK win.

The fun begins after the game with a dash back to MK Central for a half 5 or 6 o'clock train back to Birmingham for an 8pm flight home.
There have been a couple of times where we nearly missed this flight home after the first meeting with AFC NOT FROM Wimbledon, and because of a rail strike we had to get a taxi from Birmingham to MK once.
When in Dublin its thanks for a great day until the next one which is normally planned while travelling back on the train. After Dublin Airport it's into the Lord Lucan for a couple to finish off the day.