Age – 27, very soon to be 28
Many thanks to Jedd Cullinan who volunteered to take part in this the latest edition of "The Floor is Yours". Jedd and his brother Jordan are season ticket holders in the Cowshed and are extremely popular and much-loved Dons fans, and I think its safe to say everyone knows Jedd and Jordan for the passion they show at games both home and away.
So, thanks to them, we wish them both well and we hope to see you back at Stadium MK just as soon as we can, and have a great birthday when you reach 28. If you would like to take part in "The Floor is Yours" just email our Media Manager Derren at mediamkdsa@yahoo.com and he will get back to you with some appropriate questions.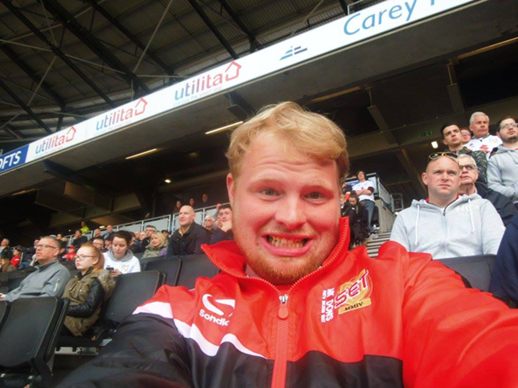 Can you tell us a little bit about how you became a Dons fan and what was your first game?
It was in 2008 and Dons Chairman Peter Winkelman came to my school, Walnuts in Hazely, along with Donny the mascot and opened the new reception after a lorry had crashed into it in 2007. He talked about the MK Dons, so I decided to go along and have a look and I've loved the team ever since. The first game I ever saw was the Dons versus Brighton in the 2008/09 season and the Dons won 2-0 with Ali Gerba and Jason Puncheon scoring.
We understand you are involved with SET; can you tell us a bit about that?
Jordan and I had been playing for Smiles FC in Aylesbury for just under 2 years and before that we played for the MK Set, and now we are back we have settled in really nicely. MK Set is a very enjoyable set up that is for people like me with autism and other special needs. It was set up in 2007 alongside the MK Dons with the purpose of establishing the Dons brand in Milton Keynes and helping build the clubs legacy through a range of activities. MK SET operates around five main areas, Education, Health, Social Inclusion, Participation, and Football Development.
We've heard you live in Aylesbury, that must make getting to a game difficult, how do you manage that?
It is difficult and a long journey as me and Jordan have to catch the bus from Aylesbury for the Saturday games, thankfully Dad takes us to the Tuesday night games.
Before the season kicked off where did you think the Dons would be in the league table, and have you changed your mind on what you have seen so far?
I never really hoped for anything much at the start of the season, but from what I have seen so far, I think they may finish as high as 9th place especially if we get Kieran Agard back fit.
Which Dons player has impressed you most this season, and why?
I really like Scott Fraser who we signed from Burton Albion and he is an excellent goal scorer from a midfield position.
What is your favourite Dons moment?
I have had many special moments as a Dons fan, but I really enjoyed the day we got promoted from League 2 when we beat Mansfield on the last day of the season 1-0 and David Wheeler scored.
Who is your all-time favourite player and why?
My all-time favourite player could only be Dean Lewington, he is an excellent player, and we are lucky to have him as our captain, I also like George Williams and Kieran Agard.
Who is a good tip for promotion and relegation?
I think Hull City are an exceptionally good team and should get promoted, and I hope our rivals Northampton get relegated.
Home game, away game?
I don't mind, I like both home and away games.
Can you tell us an away ground you always look forward to visiting and why?
I always look forward to going to Fratton Park to watch us play Portsmouth as it's near the seaside.
White shirt, red shirt, or black shirt?
I always love the white one every season and it's all I ever wear to games.