This one was real touch and go, we used up all our normal avenues of approach, messages, texts, tweets, phone calls, we passed our usual deadlines, and we thought our run was going to come to an end then from out of the woodwork came Gas fan Tom Metcalfe (Pictured Below) aged 34. So, we are extremely thankful to Tom for stepping in at the last minute and helping us out and we would like to wish him and all the other "Gas Heads" a very Merry Christmas and a Happy New Year.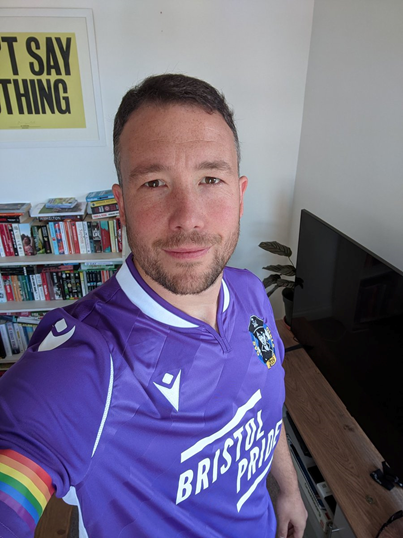 Tell us a little-known fact about your club? – We are only one of two clubs to play at Wembley and the Millennium Stadium in the same season, the other is some club called Chelsea.
What impact has Covid 19 had on your club, do you worry for its future if this continues? – Oddly, we have weathered it pretty well. Our board were working on measures to make us more sustainable before the pandemic that have softened the blow. Also, our owner writing off the debt the club had which was absolutely huge. We've also completed phase 1 of the training ground (this is a much bigger deal to us than to other clubs) so we *should* come out of the other side in decent shape. We'll certainly have weathered it better than a lot of clubs.
What has your club done to compensate fans on season ticket sales? – The club have offered refunds for the curtailed season or the option of donating the money to the youth team or taking as credit for future purchases. People could use that credit for this seasons ST's, so no one has missed out.
For this season people again could get refunds. For those that don't, they get free access to iFollow. We have to pay a tenner for away games and cup games. Seems to be the going rate for all clubs at our level.
What were your expectations for your club pre-season, and have you changed your mind on what you have seen so far? – We had a fantastic summer with Ben Garner bringing in names like Ehmer, Baldwin, Oztumer, Westbrooke who got fans really excited for the season.
Unfortunately, the results didn't follow, and he was sacked after we lost at home to Fleetwood which left us just above the relegation zone.
Tisdale has come in and been more the Exeter version than the MK version and we look like we've turned a corner before our games got postponed due to the Covid outbreak.
Fans expectations have been up and down, but I'd say we'd be happy with mid table at this point.
Who has been your breakout player this season? – Sam Nicholson has been a surprise package. Joined on a free from the MLS, not a big name and to be honest no one really expected that much from him.
All that has changed after he strolled through both Rochdale and Wimbledon to score amazing solo goals. This clip typifies why Rovers fans have been excited by him. https://twitter.com/Official_BRFC/status/1338083243229376517
Who should Dons fans watch out for as a game changer? – I'll go with someone other than Nicholson for this one and say Brandon Hanlon. Brought in to replace Johnson Clarke-Harris and he's been the focal point for our attack. Very quick, but quite raw with his finishing, he is a handful for most teams at this level. If he has a good game, then it will be a long afternoon for your defenders!
What's your opinion on IFollow? – Not the same as being there is it? The thing that frustrates me most is only following the ball. You miss 90% of the game. I can't wait to get back to a packed-out Mem!
Match prediction? – Bit of a toss-up given the postponements. Before that I would have gone with a Gas win as we'd just won 3 on the bounce. MK away was one of our worst performances last season and you made the pitch too big for how Coughlan had us setup.
This time around I think we can make the pitch work for us. We have some real quality in Westbrooke and Oztumer. I'll say a narrow Gas win 2-1.
Who is a good tip for promotion and relegation? – I think Posh will finally do it this season. They look really good. Not sure what Lincoln are doing up there, but I expect them to fall away.
Wigan are the obvious candidates for relegation. If I were a betting man, I'd say you could get odds on Rochdale, but I think without Henderson they could slip down.
Where do you think the MK Dons will finish up this season?  – I'd say about where you are now. Losing Healy was a big blow, I was desperate for Rovers to sign him after JCH left. If you'd had him, maybe a few places further up the table.