Always a game that has the ability to throw up some sort of controversy or unique situation, and it's certainly never a dull affair when we play Posh that's for sure. This week we have secured the help of one of our younger generation of fans, so we are indebted to 13-year-old Caiden Peacher (Pictured Below) to answer a few of our questions. We wish you all the best for the remainder of the season Caiden, and of course Seasons Greetings.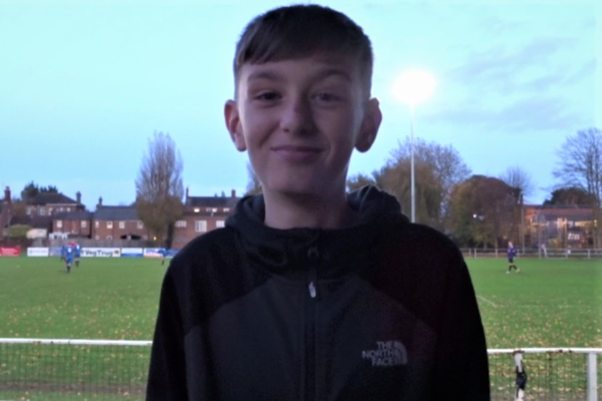 Tell us a little-known fact about your club?
We are known as the Posh because our manager at the time was looking for "Posh players for a Posh team". 
What impact has Covid 19 had on your club, do you worry for its future if this continues?
I have to say I do worry slightly but on the other hand from what I know we are financially stable and have three top owners who continue to pump money into the club. 
What has your club done to compensate fans on season ticket sales?
Our owners have been great to season ticket holders this season, although it's hard to please fans during these difficult times, but the club has said they'll discount season tickets next season for those fans who have purchased season tickets this year.
What were your expectations for your club pre-season, and have you changed your mind on what you have seen so far?
This summer we have spent lots of money on quality players which majority of the time pleases fans, during pre-season i had good expectations for our club and at the time I thought I'd be happy if we finished in the play-offs. Now I still have the same sort of expectations, but I wouldn't be surprised if we finished in the top two. 
Who has been your breakout player this season?
This season we've had quite a few but the main one for me would have to be Flynn Clarke. Flynn is a brilliant attacking midfielder who has already scored a superb goal against our rivals in the cup and he's a player that our manager has backed a lot. 
Who should Dons fans watch out for as a game changer?
This season we don't really have that stand out player that we have had in the past, but if I had to pick our best player, I'd probably go for Dembele. Although at times he doesn't play the greatest, when he's playing at his best, he's a quality player. 
What's your opinion on IFollow?
To be honest with you I'm not a big fan of iFollow, although I've not had any major issues with it, I'd obviously prefer to be at the game. I suppose during these hard times it's a challenge to get our football fix, but I hope by February we should have at least have a quarter of our capacity back in the ground. 
Match prediction?
I'll go for a 3-1 win to the Posh, I believe that our record against the Dons isn't too bad and I think we can pull off a decent performance and get the three points. 
Who is a good tip for promotion and relegation?
Promotion: Charlton for me because although we've not played them yet, it sounds like they're a good side.  
Relegation: Wigan for me because they haven't got a great side this season due to financial reasons and although anything could happen, I feel unfortunately for them they will get relegated. 
Where do you think the MK Dons will finish up this season?
I think the MK Dons are a half-decent side and this season, so I think you will finish 15th, comfortably away from the relegation zone.