Once again REF WATCH takes a look at the man in the middle, although we doubt it will make much of a difference, a Franchise loving or hating ref is the least of our worries currently.This week we bid welcome to Marc Edwards from Tyne & Wear.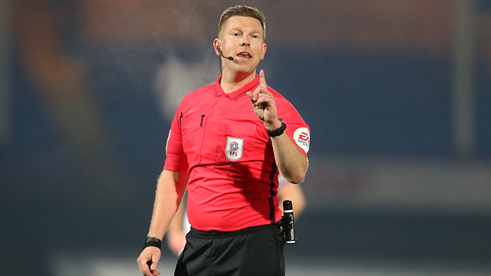 Mr Edwards last officiated for us in October 2019 and we lost 1-0 to Fleetwood, and I have a funny feeling that's the game where we set out to draw 0-0 and Ched Evans scored late on after Lee Nicholls dropped the ball at his feet. If my memory further serves me it was like defence versus attack that day with Fleetwood registering over 70% possession, and we just sat back and said, "come on then score", so they did. The Dons faithful that had made the monster journey showed a display of big arrows to show the spluttering Dons attack where the goal was, during this prolonged goal drought.
Anyway…no real history with Mr Edwards who likes waving yellow cards at people, how rude, and when he gets on a roll there is no stopping him and in his last three games, he has issued 16 yellows, any bets he adds David Kasumu to his collection, after all you aren't a proper ref if you haven't got Dave "bites your legs" Kasumu in your little black book.
Edwards is joined on the flags by Joe Simpson and one of the few lady officials in the League Lisa Rashid (pictured below), and Alan Clayton keeping the managers company on the touchline.