This week Trash Talk Tom has been out on the road to deepest darkest Lincolnshire, looking for Lincoln City fans to shed some light on our forthcoming fixture, well he hasn't really, it just sounds good, but stick with us. We were asked by a small number of people last week if these interviews are legit or are, they just made up. Well we can assure you they are 100% legit, and with the power of social media these days, it's not that difficult to find someone willing to big up their team, and this week we are grateful to Imps fans Michael Bean and Gary Hutchinson and of course our man Tom in the hot seat asking the questions.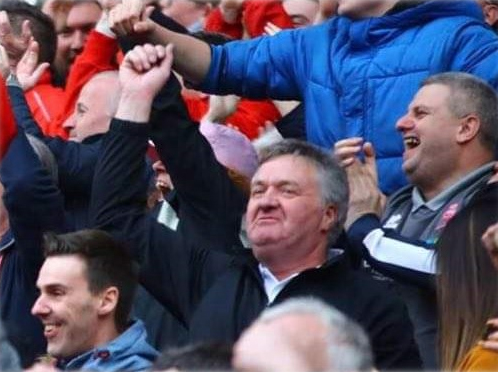 So, the questions are…
Can we start off with an interesting fact about Lincoln City?
MB – We had Graham Taylor as Manager, and we won league with 100 points.

Who is your key player for the season?
MB – Defensive midfielder Liam Bridcutt, a top player with huge potential.
GH – It has to be Liam Bridcutt this season. He is the marquee signing of the summer and much of our forward endeavour will likely go through him. Keeping him injury free is going to be crucial, he does not have a great record for playing matches consistently. The last time he played more than 30 league games in a season was seven years ago, but we're going to need him to beat that this time out. He's also going to be crucial in helping some of our younger players along as well.
Who could be the surprise star in your squad?
MB – Joe Walsh on his day is one of the best in the league and has had an awesome pre-season, surprised he left MK Dons.
GH – There's a couple who might surprise, but I wonder if central defender Lewis Montsma might be a breakout star. He's a ball-playing centre back we captured from the Dutch second division, but he's looked assured in the friendlies and I think he might just be a key asset for us. There's also Anthony Scully, a lad we signed from West Ham in January who bagged two in five before the enforced break and who has looked lively in pre-season.
How are Lincoln likely to play?
MB – High line attacking football with plenty of pressure on the ball.
GH – It'll be a slick, passing game looking to move up the field with possession. Expect a 4-2-3-1 or maybe a 4-3-3, with a lot of responsibility on the shoulders of Tom Hopper to get regular goals. I'm not sure we'll be the most attacking side, but we will retain plenty of the ball.
What are your goals for the campaign?
MB – Top half hopefully pushing for playoffs would be a bonus, I think we have recruited well to maybe achieve this.
GH – I'm a pessimist and hope for nothing more than fifth from bottom, but realistically I think we'd like to be touching the lower top half of the table come May this season. With so much uncertainty over the summer, I think a repeat of last season's 15th would be successful in the eyes of many.
What do you see as MK Dons strengths?
MB – High pressing football without ball, Playing out from the back. Lots of youth potential.
GH – I'm not so sure right now. I would have said maybe Rhys Healey's goals, but him leaving is going to be a huge blow. I thought you looked organised and comfortable when you came to our place in February, but there's been so many changes for you that I'm not convinced it'll be the same this season. I would imagine anywhere outside the bottom four will be good for you too.
What are your predictions for this fixture?
MB – Close, but a Lincoln win.
GH – A Lincoln win, always. I kind of see us as rivals now, especially after the battle for promotion in 2018/19, and I do like an away day at MK. I did some media stuff with Kieran Agard back in Dec 2018 and I was treated really well by your staff and Kieran, which was nice.