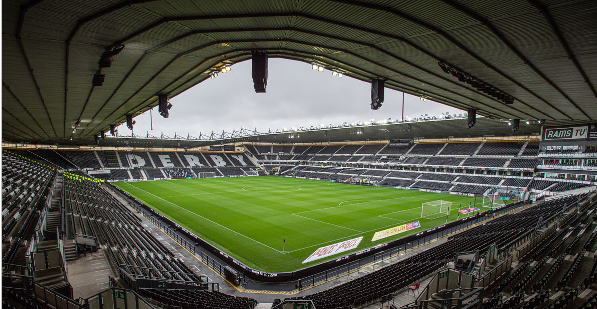 The 33,597 all seated Pride Park (DE24 8XL) which is a journey of approximately 84 miles from Stadium MK.
As you would expect with today's modern stadia this has all the facilities including undersoil heating and a decent amount of parking.
Opened in 1997 there are already plans to extend the stadium including more bars and restaurants, plus a Fanzone.
We will likely be in the corner of the East & West Stands which can hold up to 2,700 travelling fans.

According to reports they are not very tolerant with fans that look like they have had one too many in the bars of Derby, so be on your guard and don't turn up three sheets to the wind as you will likely be turned away.
Regarded as one of the best grounds in the Championship last season it is bound to attract those keen to cross this one off the list, and I can easily see 30,000 crowds as being the norm in League 1.

Away fans looking for a pre-match pint usually head for the nearby Harvester which is a five-minute walk from the ground, or you could always try the Navigation which is a ten-minute walk and is situated on London Road. There are several pubs near Derby Railway Station, but these tend to be for home fans only.

7 miles off the M1 there are a few large carparks within walking distance to the ground, these are priced between £5 and £8.
Deby Railway Station is a ten-minute walk from the ground and is served by trains from Birmingham New Street.